Question
At what point should I seek help for how I feel?
66 Answers
Last Updated: 06/05/2018 at 8:43am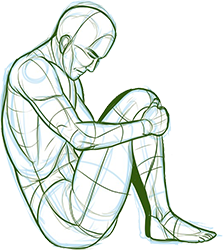 Moderated by
Psychologist
Life is chaotic and you need to rest if you're tired. I am here to help you relax until you are ready to start over again.Your mental health is priority, so is your happiness.
Top Rated Answers
It is never too late to seek help for how you feel. If you need to get help, then get it. Help doesn't have an expiration date. Get the help if you feel you need it.
Anonymous
August 16th, 2016 12:07am
Generally, one should seek help when their emotional problems or feelings are interfering with their everyday life. It depends on the situation and the feelings, but if you think you might need help it is a good idea to seek it out.
Letiza
February 5th, 2018 2:58pm
If it affects your daily basis you cannot function well on everyday living and if you feel sad worthless etc even when you have suicidal thoughts that is the most important you should seek help
It's important that you seek help whenever you feel like you'd need it. This can be any type of help from simply asking a family member or talking to a friend about how they feel or getting professional help from doctors and therapists. The point you should seek help for how you feel is down to you, if you feel like you can't cope with how you're feeling or are struggling in any way, get help.
Anonymous
April 24th, 2018 11:45pm
Don't wait for things to get worse. Try to seek help as soon as you feel that it's negatively impacting your life. Think about your health and ask yourself do I see myself improving? Or do I see no way out?
If you experience a significant amount of distress, and if your experience is disturbing your personal, professional and social life, it would be beneficial to seek help.