Question
How can I distract myself in healthy ways from negative thoughts?
36 Answers
Last Updated: 08/10/2020 at 4:11am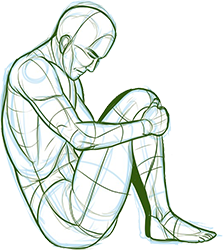 Moderated by
Anna Pavia, psicologa psicoterapeuta psychotherapist psychologist counselor
Licensed Professional Counselor
I feel my work as my personal mission and I love it. My work with clients is nonjudgmental, supportive. I am a very good listener. I use several approaches. Amo il mio lavoro.
Top Rated Answers
Anonymous
October 3rd, 2016 4:25pm
By doing something you enjoy, such as, drawing, cooking, running, listening to music, cleaning, etc.
listento music, drink some hot chocolate, bake, take a nap, tidy your room, hug a teddy, watch high school musical
Get up, take a break from what is causing your negative thoughts, and walk around! Some physical activity can help you break off some of the negativity going around in your head. Also, you could try and talk to someone, especially to a listener here on 7 Cups!
Anonymous
October 2nd, 2017 2:10am
You may distract yourself by going for morning excerisizes, joining a book club or a something you're interested in. Hang out with your friends and family individually or together, go out and have some fun once in a while, if you like adventure go on a solo or duo trip ☺️ Do things outside of the box, it may not affect you highly from the start but focus on your feelings when you're doing these activites and if it's not for you, try something new. Also when you look in the mirror say something uplifting about yourself. For example "you can do it, you're strong and amazing and you've overcome a lot, look where you are today" Ax
spend time with good people even if you just sit together and watch a movie. leave the house and look at the sky.
Anonymous
March 6th, 2018 12:49am
You can distract yourself in healthy ways from negative thoughts is when you are aware you are becoming negative trying to bring it back to positive for write down 10 positive things about your day can also be beneficial.