Question
How can I help people online in need?
155 Answers
Last Updated: 09/07/2019 at 9:40am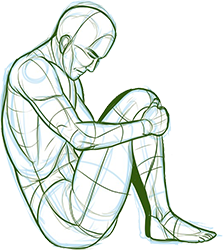 Moderated by
Pre-Licensed Professional
I help guide clients to create positive change in a non-judgmental and supportive atmosphere.
Top Rated Answers
By becoming an active listener here on 7 cups of tea.If not 7 cups,there are a lot of apps that enables you to do so.After becoming a listener over here;listen to people,support them,show them empathy without giving any kind of advice or making any judgements about them.It's wonderful that you wish to help people in need,thank you for being so lovely!
Anonymous
May 7th, 2018 3:04am
You can help people in need like using 7Cups. You can talk to somebody that needs someone to talk to and comfort them.
Anonymous
June 25th, 2018 2:31am
Well, one great way is this site, 7 cups of tea! It allows you to listen to those in need which is great if you are not a professional. Personally, I find it very rewarding and not stressful. It does require a bit of training. Another way is work at hotlines. This requires more training, and you must be over 18. There are other places that allow you to help. Just remember to be safe online and not give out personal information.
you're welcome for sure to join 7cups and our community as a listener! We would be glad to have you!
We are human beings.. We are all different parts of same body and we need to be there for each others to make this world a better place. To make the world a paradise. Sometimes it's really great to talk to a person... About their life, struggles, and to support them.. Which I think makes us more human.. I won't be able to solve your problems, but I can be a shoulder for you to lie down... I can give you a hand to pull you up... I'm there for you... Let go the negatives and we need more positivity here... Let's achieve it together