Question
How can I help people without money?
126 Answers
Last Updated: 09/17/2019 at 5:40am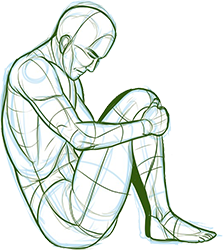 Moderated by
Art Therapist
Life can be messy. Sometimes you need a little support to make your way through it. I love to help guide people through their challenges & to find the beauty in our messes.
Top Rated Answers
Anonymous
February 27th, 2017 9:52pm
You can volunteer your time at local hospitals, hospices, schoool etc. Lots of places accept volunteers and may even help you with travel. Other ways, you could donate food, clothes etc to charity, and work on being a listener on 7cups as that is always a very good way to help others.
Anonymous
April 3rd, 2017 9:11pm
Support them, offer your thoughts and be there for them when they possibly need to hang out or what have you. If you want to offer money to help, go for it. But if not, there a lot of other ways to help without taking money out for them.
Nowadays it is hard, when money can help a lot. There is a lot of voluntary work that can help people. Or depending on what kind of help you want to offer there are chores. when I was younger I would mow peoples gardens, clean cars etc to help. Even talking or a smile can help lift spirits
Anonymous
May 1st, 2018 8:30am
You can always refer them, help them apply for the necessary grants that can help them. You can also donate to charity.
Anonymous
December 4th, 2018 7:47pm
Well you can help them by showing them that you have to stay positive and this depends on the situation at hand as well. I mean there is a lot of ways of helping someone. And that sometimes come from the heart. Money is not something that we should be worried about when it comes to helping the person that is in need of it. We take the side of helping to look for a job or even you might want to take the steps of showing how to make money by being with them every step of the way so that they get it done right. This is not an easy answer because the situations are so different from person to person here.
A simple smile, Hello, "Your outfit looks good today", "Love your eyes", or chatting with people in 7cups community groups, a little goes a long way when it comes to the simple things, sometimes we can forget to be kind without using a gift or two on the side, aside from being kind upfront, you can always donate clothes, toys, food, and much more every day accessories, and it will make the world of difference in a mothers life, a son, a man, a daughter, a vet, and other families possibly around the world, I recently gave away a lot of clothes i stopped wearing and extra canned foods i didn't need, and other supplies that went unused, and donated what i had to offer, you don't always have to buy things to give them away, just like every kind gesture doesn't have to be sided with a gift ♥