Question
How do I know if I have completely moved on from my depression?
15 Answers
Last Updated: 01/23/2018 at 5:39pm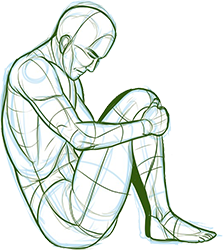 Moderated by
Licensed Psychoanalyst
I have helped and am helping people cope with loss, divorce, anguish and parenting. Depression is also a major issue that comes up.
Top Rated Answers
Anonymous
February 16th, 2015 7:17am
I don't know if one truly can completely move on from their depression; depression is a life-long battle, and though we may sometimes get it under control, and can always linger in the background. It's important to just keep fighting every day, and to keep at it even when things get better. The last thing you want to do is stop taking your medication because you're feeling better, then relapse as a consequence.
Depression is not something you can completely move on from. It may go away for periods of time or become much more manageable; however, there is a risk of it coming back at any time. To be safe it is usually best to continue whatever treatment you are in, even if it becomes more infrequent. There are many great ways to cope with depression and make it almost unnoticeable, but it is still there.
You don't. You just learn to cope better. You'll know when you're coping better when you can finally say that you want your life, you'll fight for it and nothing will stop you from doing what you want to because you are worth so much more than you may have thought about yourself before. Just eat healthily, exercise regularly and do the things that make you happy! :D Good luck :D
Anonymous
July 6th, 2015 5:57pm
You have completely moved on from your depressive state when you can feel happy again and talk to people again.
Anonymous
August 3rd, 2015 12:09am
You will just know. You will feel it. You'll feel happier and you'll want to try many new things.
In my case I knew when I didn't feel like the walking dead, when I could smile without it hurting, my head was clear, and I wanted to talk to others.
I don't know that we ever completely move on from anything in life. Depression, like any other life experience, shapes who we are and who we become. If you are asking, how do you know that you will never have another depressive episode? I think the answer is, we can never know that one way or another for sure. We can just trust that the universe will bring us through our trials just as we have overcome and triumphed before.
I'm not sure if there is an end to it. All you need to do is understand and try that everything happens for a reason.
If you're not crying often, if you can feel and shate your emotions, if you can get out of bed or house, if you can work, take care of yourself and others .
lizzle
November 30th, 2015 4:42am
You will notice that you feel less hopeless about the future, more self worth, you can start living life again. The saying with depression is that you're living but you are not living, it's juxtaposition.
Anonymous
November 30th, 2015 7:20am
You never move on completely from depression since it is a disorder. You may have relapses but just know things will get better!
You start to feel emotions again. (This can usually begin with feeling negative emotions, then the positive emotions return as well.) When you have completely moved on from depression, you feel almost "whole" again. You're less broken, less unsure, and more optimistic or hopeful.
Moving on from depression is a great thing! While depression can be very overwhelming, the signs of overcoming it aren't necessarily as apparent. They can be small things, like newfound enjoyment in the things you used to like before depression, a different outlook on life, or even wanting to talk a walk outside. However, it's important to remember relapses can ALWAYS happen. Don't be upset if they do.
I am someone who has struggled with depression since childhood. About 4 years ago, I was finally prescribed anti-anxiety and anti-depressants. It took about 5 trial and errors of various dosages and addons until things began to clear up. Now, I canʻt say that depression has completely left me. Once in a while, I fall back into a relapse. Despite how alive I can feel, it will creep back. These feelings will probably resurface here and there for the rest of my life. But, I have come to terms with it. I am much more happy than before and I would like to call myself a successful testimony. Although these feelings resurface I know that I have moved on from it. Why? Because I feel an overall sense of liveliness. When I ever feel depressed, I know that I will get out of it. I know that happiness will come back, and most importantly I am able to believe that I have a purpose in life even when I feel like Iʻm falling apart again. I am able to take that struggle of feeling depressed and use it to make me into a stronger person who uses her experiences to guide her through life while continuing to improve herself. Moving on from depression doesnʻt have to mean that youʻll be happy for the rest of your life. Itʻs coming to terms with these struggles and not letting it interfere with your self-worth, self-growth, and overall well-being. But at the end of the day, the only one who can ever realize whether or not you have moved on is yourself. Trust me, youʻll know.
Anonymous
January 23rd, 2018 5:39pm
To know you have completely moved on from you depression you will feel better about yourself. You will also feel happier and want to go out and do things with the people you love.