Question
How do I stop hating myself?
95 Answers
Last Updated: 06/02/2020 at 9:05am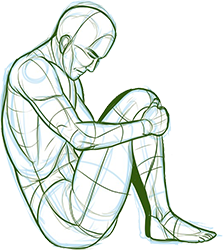 Moderated by
Marriage & Family Therapist
I assist adults and couples in CA experiencing relationship challenges and interpersonal struggles including anxiety, depression, and a myriad of other life challenges.
Top Rated Answers
Baby steps. Can't emphasize this enough. If loving yourself seems like too much, work towards tolerating and feeling neutral about yourself.
Anonymous
August 6th, 2018 5:16pm
Forgive yourself, have compassion for yourself, change your mindset and thought patter to the better
Hating yourself is one of the worst things ever. To prevent it you must start off by complimenting yourself. Remind yourself of the good things about yourself instead of the flaws. I always feel good about myself when other people compliment me. Ask your friends or anyone if they can say some nice things abou you to boost your confidence. You will then forget about the bad things. After you do this, then focus on why you hate yourself and motivate yourself to change those things if it is healthy and safe. Just remember tha no one is perfect and we all have out flaws. Some peoples just may be easier to spot than others
Changing your mind set is a huge step towards self love. Start accepting your flaws instead of trying to change them. I started by looking in the mirror and pointing out the bits of myself I didn't mind. It usually starts off little like 'the colour of my eyes are okay' or 'my smile isn't too bad'. Then you start repeating this every time you look into the mirror and you begin to really believe it. It took me a while, but I was eventually able to love things I was bullied for in the past, you just have to really convince yourself and eventually you believe it.
To stop hating yourself, think of all the reason why you do. Why do your hate yourself? Are those because of something from the past? The way you behave? You need to forgive yourself for the behavior you had in the past. It's in the past thus, something you cannot change. For the way you behave now, the way that you are now. First step, you need to accept yourself with your flaws. This is the person I am today. Only then you can focus on the second step: DISCOVER YOUR AUTHENTIC SELF AND LIVE IT FULLY. What I mean by that is: who you are right now isn't who you want to be 5 years from now. That "yourself" might be standing between you and who you were created to be. We are to go deep down within ourselves, examine ourselves and become whomever we choose to be.