Question
How do you help someone who is depressed?
68 Answers
Last Updated: 07/23/2018 at 6:19pm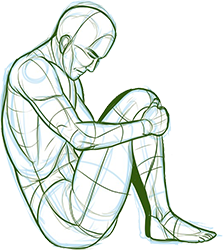 Moderated by
Psychologist
I have over 9 years of clinical experience, specialize in anxiety, and am passionate about my work. My approach is collaborative, empathic, supportive, and goal-oriented.
Top Rated Answers
Anonymous
August 9th, 2016 12:28am
Let them know that you care. Show them that they are worth much value and that they are loved. Be careful not to make them feel different, they may feel worse about themselves in that circumstance. As long as you are supportive of them, you are a saviour to them.
Anonymous
September 12th, 2016 3:34pm
You can help them by being there for the person. Tell them to hang in there and let them know they are not alone. Also if the person has suicidal thoughts, call an ambulance and send her/him to the er.
Anonymous
January 2nd, 2017 7:56pm
Tell them you are there for them whenever they need. Tell them it is okay for them to feel the way they feel and that you will listen to them without judging them. Remind them that they matter to you and appreciate their efforts in doing even the small things. Ask them if they need your company for certain things like going out for a walk or seeing a doctor, maybe that could encourage them to go ahead with it. Always show support and acceptance. And don't forget to take care of yourself too.
Being there for them, letting them know they can come to you to talk is so much more helpful than you can imagine. Even if they don't open up right away, just knowing they have someone they can count on is important. But it is also important to know our limitations. We can only do so much before a professional has to step in. Know your limitations, and be prepared to share resources to those who need it.
Listen, give a shoulder to cry on. Show them you love them and care about them. do NOT tell them what to do.
Anonymous
December 4th, 2017 6:53pm
Talk to them like a friend, and be there for them. Think "If I were in their shoes, what would I want said to me?"
Anonymous
February 20th, 2018 2:33am
By being non judgement or minimizing their emotions, listening and providing positive companionship
Listen to them. Let them confide in you and reassure them their feelings are totally normal and ok. Sometimes just having an ear to talk to when you're depressed can make the world of difference.