Question
How to stop negative thoughts from entering your mind?
33 Answers
Last Updated: 11/08/2021 at 11:36am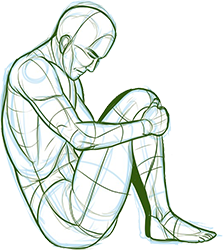 Moderated by
Licensed Professional Counselor
Psychotherapy I provide is based on a dialog and your active intention to look for a solution with the therapist's assistance
Top Rated Answers
To stop negative thoughts you need to think positive. Sometimes you might even want to face those negative thoughts and try your best to eliminate them.
You should start by sitting down in a space where you feel comfortable and taking deep breaths. Once you start feeling a little better, try focusing your thoughts on what is happening in your life that is good and helps you feel happy emotions. Try listing them one by one and making a list in your mind and try feeling thankfulness and appreciation to life. Keep taking deep breaths and listing things and when you feel like you've done enough to make you feel okay. Stop for a moment and take more deep breaths while listening and accepting all your feelings and surroundings. Then you can start your day anew.
We generally think these negative thoughts are like a part of our struggling in life. But, I can stop it from entering my mind by keeping myself busy in things which I am interested or by doing which I feel joyful and energetic. I usually feel that whenever I make some distance from my work or study, there are lot many thoughts come around in my mind that are related to my career, financial problems, my dreams and family. And that issues make me think of the negative side of my life that I can't do anything about, or I'm not able to grow from there, I can't get back to those days where I was doing many things to build my skills . So for me, how to stay away from negative thoughts is to keep myself busy.