Question
I have everything going great for me, but I am feeling sad and slightly depressed. I dont know why I feel like this. What should I do? I'm sad them im angry.
2 Answers
Last Updated: 06/15/2021 at 4:54am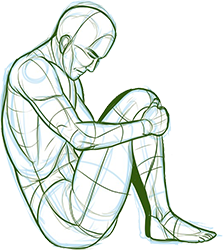 Moderated by
Social Worker
I offer a warm and non-judgmental space for you to work through your problems. I can help you with anxiety, disordered eating, depression, relationship problems and more.
Top Rated Answers
I'm no doctor, but it sounds like you're unhappy about this issue and need medical treatment or some form of counselling? I mean, if it's ruining your day to day life, maybe it's time to visit the doctor. Good luck!
I am hearing that you are sad and feeling depressed while things are going great for you. Would you like to share what brings these feelings on or when they occur? I can understand your confusion about becoming angry too. It can be very confusing when so many emotions are occurring at the same time. I am here to listen if you would like to share these things. You are in a safe place here. 7 cups have therapists available if you would be interested. You can chat with them online. Would you like me to help you navigate connecting with a therapist?