Question
I need help. Can I find this on 7 Cups of Tea?
154 Answers
Last Updated: 06/01/2020 at 7:30pm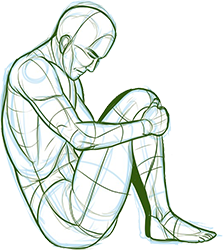 Moderated by
Pre-Licensed Professional
I help guide clients to create positive change in a non-judgmental and supportive atmosphere.
Top Rated Answers
Anonymous
November 22nd, 2015 11:44am
you will find help from every of our users. we are trained and we know how to deal with difficult situations.
I think some people can, if they have the ability to listen, relax, and breath. Also, proper english and fast typing skills is a must.
You can absolutely find help on 7 Cups of Tea. We are a community of active listeners and are committed to helping you reach your own conclusions about your life choices (because you're the only true expert on you)! Even if we aren't equipped to help you deal with your specific issue, we can provide you with a resource that can help.
Anonymous
November 26th, 2015 1:04pm
Yes, we provide support as trained listeners through the 1 on 1 chats, group chats and through the forums. Please do not hesitate to talk to us.
Anonymous
November 27th, 2015 12:20am
Absolutely, between listeners and group chats this is an excellent place to talk through your problems and get advice.
Anonymous
November 27th, 2015 5:08am
normally but it depends on what kind of help.
Yes! You can find a lot of people ready to listen and ready to support you on 7cups. 7cups is an inclusive and supportive community. There are also resources in the non-digital world though that 7cups can help you reach out for. :)
Anonymous
November 28th, 2015 4:38am
Yes. You can get help from one of the listeners of 7 Cups Of Tea. Im sure someone will attend you and help you with what you need.
you caan indeed you just need to get connected with a listener and that is super easy, you can also chose who you speak with too x
Anonymous
November 29th, 2015 11:24am
there will always be People on 7 Cups who will listen to you and who will try to find a way out of your Problems with you, but we listeners are no professionals
Yes of course, you can pour your heart out and not to show your identity if you don't want to, there are professional listeners that can give you help :)
Anonymous
December 2nd, 2015 11:24am
Yes, every listener on 7 Cups of Tea will help you as you wanted so don't worry about it. You came the right place.
Anonymous
December 3rd, 2015 6:17am
No matter how much time you devote to improving your mental and emotional health, you will still need the company of others to feel and be your best. Humans are social creatures with an emotional need for relationships and positive connections to others. We're not meant to survive, let alone thrive, in isolation. Our social brains crave companionship—even when experience has made us shy and distrustful of others. Social interaction—specifically talking to someone else about your problems—can also help to reduce stress. The key is to find a supportive relationship with someone who is a "good listener"—someone you can talk to regularly, preferably face-to-face, who will listen to you without a pre-existing agenda for how you should think or feel. A good listener will listen to the feelings behind your words, and won't interrupt or judge or criticize you. The best way to find a good listener? Connect to 7cups, where trained listeners, listen you without judging you and without any preconception, here we listen and understand your feelings and thoughts which comes and go regularly in your mind and make you disturb or feeling low. Also you get resources, links and powerful tools to improve your mental and emotional health, so you feel better and improve your way of thinking and live a happy life ahead.
yes you definately can find this on 7 cups everyone here will always to do their best to help anyone
Yes, you can find help at 7 Cups. We have Listeners ready to offer emotional support or just a friendly chat to everyone that visits our site. We listen and help people cope with mental health issues and daily life struggles.
Yes! 7Cups of Tea is a very good place to come for help. The listeners are there to help and all chats are kept private. When the chat is over the history is not kept. On 7cups you may also be able to find people ahve gone/ are going throuhg the same thing!
Anonymous
December 5th, 2015 8:31pm
Of course! There are many people here who have been in similar situations and have the advice and experience to help you :)
Anonymous
December 6th, 2015 10:09am
You can find help on here by connecting to a listener. Listeners will try to help you as good as possible and they will also comfort you if you're not sure about talking to them. If you have any morenquestions, don't hesitate to ask the community or a listener!
Anonymous
December 6th, 2015 8:45pm
Of course! Anyone of 7cups would be happy to help you with your problems. Just start talking with a listener and hopefully you can work some things out
Anonymous
January 15th, 2016 10:13am
Yes, absolutely. The listeners on 7 cups of tea can be there for you while you talk through the issues you're having.
Of course you can. 7 Cups of Tea is filled with people whose soul purpose is to help you. If they can't do that, they'll help you find a friend or family member who can.
Anonymous
January 15th, 2016 11:16pm
Yes. There are many places you can find help and 7 Cups Of Tea is one of them for sure. The community is wonderful and supportive, friendly and very compassionate. If you're feeling down, listeners will help you find your way back up. If you prefer, there is also group chats where you can debate your experiences and knowledges on group chat to help people and in return they can do the same for you! 7 Cups Of Tea is a unique community and one of the best to be in.
You certainly can. Any of the listeners are here to help. And listen of course, because we care! And even if we are strangers, getting your feelings out, is good.
Anonymous
January 18th, 2016 6:34pm
Of course you can. You can ask anything plus you can check out the forums or the discussion boards and group chats.
We are here to listen and help you to find the best solution for your condition. So feel free to contact us
Anonymous
January 20th, 2016 4:52pm
7cups , truly the best emotional support website ever created in the history of internet ..The way it helps people is real various , through the forum comprising amazing topics , through the feed , and most important through PM's with our actively trained listeners ...Of course help can be found here abundantly
Anonymous
January 20th, 2016 7:51pm
You can find people who will help you help yourself. You won't find answers, only people who will listen, think and ask you questions which will lead you on a path of understanding.
7 cups of tea's primary purpose is to support and help people ..You are in right place☺ may be we can't be there in person but here in 7 cups well understand you ,support and will be there with you through out ..☺ 7 cups of tea is all about helping others so smile and just talk to someone ☺ good luck
Yes, you can because we have alot of different ways to help you and they work, such as venting to a listener or listening to mood boosting
Absolutely! When I was on the member side, I got a whole bunch of supportive and very useful conversations with people who really cared and that felt SO amazing. I'm very grateful to this site for that, which is why I want to give back by being a listener. The forums are a good place to bounce ideas around and the community is fabulous.