Question
I need help with depression
33 Answers
Last Updated: 04/28/2020 at 6:14pm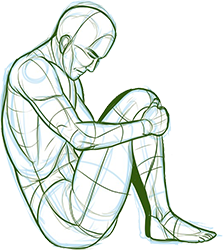 Moderated by
Marriage & Family Therapist
Feeling depressed or anxious can be so overwhelming. I want to help you feel better and be able to enjoy life. You are not alone and you deserve emotional support.
Top Rated Answers
Anonymous
January 14th, 2019 11:37am
Acknowledging you need help is the way out of darkness. There were times I felt so alone and lost and dead that I didn't know what to do; didn't know anything could be done. When you get down that far, you can feel immobilized and unable to help yourself. Having survived that period with the help of an amazing counselor, I'm here to affirm that yes, there is help for people who seek help. Just take that first step. There will be other steps you will need to take, but that first step is the most important. You can do it, and there are people you will discover that will help you along. You will not only meet supportive people, but learn strategies to help you get out of those dark ruts, such as exercise, mindfulness, distraction. You will learn that you can change the way you think about things, thus becoming more creative in your solutions. Good luck!
I am sorry that you are struggling with feelings of depression, but know that you are far from alone in what you are going through. If you would like to, you can talk to me or any other listener or therapist here on 7Cups and we can help to support you and help you to see beyond your thoughts and feelings. Often finding things in which make you happy and noting the things that make you grateful can help to change your thoughts and feelings. These could be even simple things like being alive and just waking up, music, friends and family or much larger things such as achieving a job you wanted. But in all things you have to try and make the decision to see beyond the pain and struggle, and see the good. I hope this helps and that you get there help you need. I am here for you, you have a whole army on your team fighting for you, your not alone in this.
Honestly, I also needed some help with depression a year ago. I found that concentrating on my future helps a lot. Whenever I felt depressed or mad at bullies, I channeled all that anger and self hatred into my studies. Instead of hurting myself, I got up and I studied my ass off for tests and quizzes. I worked on homework and did anything I could to get my mind off of things. Not only did it reduce my work load and reduce my school stress, it also helped me gain confidence. Because I knew that by doing schoolwork I was opening up a portal to a new life where I wasn't depressed in the future. Now, my grades are great, I'm much more confident, and I have a way to let out some steam from time to time.