Question
I need help with my life
141 Answers
Last Updated: 07/16/2018 at 6:16am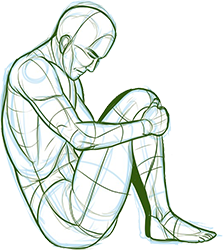 Moderated by
Art Therapist
I believe that being aware of who a person is, will help to make the life better. I help children, adolesences, adults and parents for understanding themselves
Top Rated Answers
You can always talk with a listener! We are very happy to listen and help! Send a message and don't be shy. We are here to help.
Anonymous
December 6th, 2015 8:39pm
I'm sad all the time and I think I'm ruining the relationships with everyone I know. I don't want to be sad anymore but I can't help it. I feel like I'm drowning. I think so poorly of myself that it's extremely unhealthy. I've starved myself and harmed myself and I'm afraid I might do something worse.
This may seem confusing, crazy, or just plain ridiculous, but the best way to get help is to help yourself. Figure out your own ways to be happy. Figure out your own ways to boost your confidence, self-esteem, or whatever it is that you're having trouble controlling or doing. Just give yourself time and I'm sure everything will be okay.
Anonymous
December 23rd, 2015 4:05am
The only way to help.your own life, is to show that you may swim rather than sink. To swim is to push through the pain and accomplish all set goals or.desires by putting in hour after hour of work. Why? For when the task is accomplished, you will be able to say "I was determined and contained perserverance, and thus, completed the goals that were thrown at me to the best of my ability." To sink is to submit, while giving up and accepting defeat. To sink is to retreat, and refuse to dust yourself off and perservere to get the goal completed. At the end of the day, who are you going to be?
Life has its way of challenging you. But in the end, what really matters is the lessons you learn from each challenge and how you grow stronger from trying your best. Sometimes, the challenges are too difficult, and you might fall sometimes, but that's okay. There are more people who can help you and who love you than you think. Just keep standing back up :) After a hurricane comes a rainbow!
I need help with my life, too! : ) I think we all do, in some way. Having someone to share this insecurity with - even just by talking, can be so helpful, and relieves a lot of the tension that none of us really know what we're doing here.
Anonymous
January 21st, 2016 8:50pm
You should talk to someone, like doctor, who can help You with your problems. You will get much better
Please please please come talk with me. I hope i can help and if we do not talk, good luck my friend.
You've come to the right place! Recognizing that you need help is such an important first step on your journey to getting better. Talk to an active listener, reach out a friend or family member, or talk to your doctor. You can do it!
Firstly I think it's great that you are looking for help. That means that you are moving ahead. Talk to your GP, friends and family and try to move physically as well.
Everyone needs help in their lives. In many parts of the world we have moved towards the idea of independence to such a point where, though we live in a community, we feel we are all alone. This is unreasonable. We all need help. No one should think "I have to do it do it all by myself". It is incredibly lonely and isolating. And believe it or not, but most people feel this way multiple times in a month, let alone their whole lives. We are social. And part of being social is giving help and asking for help. Don't be afraid to ask.
Anonymous
February 4th, 2016 5:52am
If you need anything at all, come to 7cups! We have experienced listeners around 24/7 to help, all you have to do is send a message.
Anonymous
February 4th, 2016 10:30pm
If you need help with your life, I recommend Youtube, Wikipedia, and searching questions on Google.
Anonymous
February 6th, 2016 5:18pm
A lot of us need help with life. Seek out a trusted a listener on here, friend, healthcare professional or pastor/priest to look at and work on some of the life issues you're having. You don't have to work it all out on your own :) .
You can get support by talking to a Listener, Professional or Support Group. These are all non-judgmental and supportive ways to get help and figure out what's going on with your life.
I understand what you're going through, there are moments in my life where i know that I need help too, but what do you need specifically?
Dont make life so complicated. Take life as it comes. Enjoy the emotions that you experience at each stage of life. Have the courage to fall and rise again. Love yourself no matter what is the situation
Anonymous
October 9th, 2017 6:06pm
You are the creator of your life. Picture the universe as a catalog that you get to shop out of. Whatever help you need ask for it. Think of how you wish your life to be and look. Hold onto that feeling and see it as if it is happening right now!
Be more open to people. Know the trustworthy ones and include them in your life. Ask help if you need to.
Anonymous
July 10th, 2018 3:35pm
What in your life would you like to change? A trained counselor really helped me find my own way through the maze of my rough patches and bad decisions.
Anonymous
July 16th, 2018 6:16am
We sometimes all do, life can throw the worst things at you and as cheesy as it sounds it will get better