Question
Is it normal to feel worthless all the time?
19 Answers
Last Updated: 02/20/2018 at 9:23pm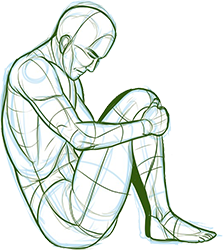 Moderated by
Tara Davis, Doctorate in Counselling Psychology
Psychologist
I have worked successfully with a wide range of difficulties. Nothing is more important than developing a warm, compassionate relationship with someone you can trust
Top Rated Answers
Anonymous
January 28th, 2015 11:43pm
It is normal to feel worthless, but if you feel that way constantly, something's wrong. You shouldn't have to feel so bad all the time. You should try to dig deeper into your feelings to find out what's causing the problem.
Yeah it, I feel worthless a lot too. And a load of people around the globe do too, which in my view, is saddening. But I mean, you're not alone. Gong through hell? Keep going
No. You are absolutely not worthless, and if you feel that you are, then something is wrong. However, the good news is that you have made a great step towards helping yourself by coming to 7 Cups of Tea. Please continue on this path towards healing by reaching out to a listener!
It is normal... many people feel this way. I admire them for constantly pushing themselves forward to see brighter of days.
Anonymous
June 29th, 2015 8:05pm
It is normative to feel like we are being undervalued at times, but if you feel worthless all of the time then you need to seek professional help to allow you to see your value once again.
Anonymous
December 8th, 2015 3:09am
Yes.. but it depends on what your focus is on. I have felt worthless many times, for several years at one point. I found that the best way to tackle that issue, is God. If you do not have a relationship with the Lord, the next best thing is to HELP others. I am on here helping others to keep my mind from focusing on myself. The more I help others, the better I feel about myself. Simple things like: opening doors, letting someone go first, smiling at someone etc. When we pull the focus off how we feel and ourselves, we immediately see results in mood.
Anonymous
February 14th, 2015 8:34am
We all feel down sometimes. But feeling miserable all the time means that you're really stressed and you should talk to people you're comfortable with about how you feel.
Anonymous
April 16th, 2015 2:52pm
Well, I think everyone has a period of time in which they will feel worthless unendingly. But, this isn't how it should be, so I apologize for you feeling like that. You deserve to feel on top of the world, and there are many ways to get you there.
Everyone has ups and downs, even long periods of time where they feel the same emotion but eventually with time, friends and motivation you will see improvements.
Technically yes. Normal is what you've come to expect all the time. And what you can expect is to feel worthless. But I would not say it's normal for everyone to feel worthless all the time. In fact, feeling worthless is so detrimental to a human being that it threatens their longevity. There is NOTHING to gain from feeling worthless, not even once. Being humbled and being humiliated are two very different things. If this is your normal, you have much to gain by talking to our active listeners online at 7cups of Tea and by speaking to a psychological professional
Anonymous
November 2nd, 2015 10:15pm
Everything that is happening to us is normal but if we don't like it we can change it. Nothing on this world is worthless.
No, this is called having low self-confidence, and can result in depression and suicidal thoughts. You should reach out and get some real help to stop these feelings from progressing.
Anonymous
May 23rd, 2016 3:39pm
Sometimes one feels worthless, failing is a part in each's life but no one should feel worthless all the time. No one is worthless. Just like a flap of a butterfly could destroy the world, is your existence very important to a lot of people. Even if you don't know it yet or your existence might become really important in the future - maybe you will be the person who finds the cure against cancer?
Feeling yourself unworthy is the result of what is happening in your life because of your past decisions. No life is unworthy, just keep living and see your worth as a human
Anonymous
February 20th, 2017 6:08am
Feelings of worthlessness are not unusual. However, if these feelings are consistent and chronic, I would suggest seeking help. Especially if these feelings are impacting your ability to complete everyday tasks.
Anonymous
November 13th, 2017 8:50am
To be honest all the time may not exactly be the most functional. Do share these feelings with someone who can show you that you are not worthless especially not all the time.
I do feel it all the time.. But the thing is what makes us after that so-called normal feeling.. It's our cue to feel being worthless or picking up something and doing something worthy around..
Anonymous
December 5th, 2017 1:15pm
No, it is not normal. Because you are not worthless, nobody is. Even if you think you are being unproductive nowadays or anything like that, it can always change. It is okay to take a break and do nothing for a while.
It is not normal to feel worthless all the time. Feeling down about yourself is a symptom of depression. If you are worried you are depressed, please seek help from a therapist or a loved one.