Question
Is it okay to miss my biological Mom even though she abused me for the first 5 years of my life?
5 Answers
Last Updated: 08/07/2018 at 6:17pm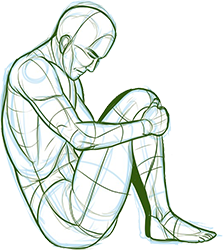 Moderated by
Marriage & Family Therapist
Feeling depressed or anxious can be so overwhelming. I want to help you feel better and be able to enjoy life. You are not alone and you deserve emotional support.
Top Rated Answers
Yes, of course it is, your mother is always going to be your mother, regardless of if your brain tells you otherwise. If you understand that it's not healthy to be around her, or what she did was wrong, then missing her is just missing a mother. Your mother. It can be hard to get over, and is completely okay.
Anonymous
August 14th, 2017 5:03pm
Despite the hurt she brought to your life in these five years, she is your Mom and not many others can fill that position. So yes, to answer your question, it is absolutely normal to miss her.
Anonymous
November 27th, 2017 1:20am
Yes, it is okay to miss your mom. Because your mom is still your mom, you miss having a mom but you don't miss the abuse, it's an all too confusing emotion.
Anonymous
June 26th, 2018 6:39am
I think you need to understand what about her do you miss. It's okay to miss other parts of her that were good to you, maybe even forgive her if you're capable of that. But don't allow her back in your life unless you're sure she's changed and wants to make amends.
Of course it is! Your mom is your mom, you cared about her, and despite those bad memories you have, you also have good ones of her from that time, and you have good memories of her from past that time as well.