Question
Should I give up on myself?
51 Answers
Last Updated: 04/13/2021 at 5:28am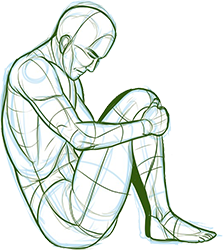 Moderated by
Art Therapist
Life can be messy. Sometimes you need a little support to make your way through it. I love to help guide people through their challenges & to find the beauty in our messes.
Top Rated Answers
Never give up. People can advise you, show you the right path to follow, but you are the only one who can walk this way. Love yourself, value yourself.. Remember you worth a lot.
You shouldn't ever give up on yourself. I don't know you, and I don't know what you've been through but I know that a human life should never be given up on by anyone.
Anonymous
March 21st, 2016 10:28am
Would giving up on yourself ever help you gain what you lost hope in? Or help in fulfilling your desires? Nope. So bluntly, no
No. You have made it this far, every single day getting up and staying alive. You've battled all the challenges so far in your life. You can do it! We believe in you
Anonymous
May 3rd, 2016 7:41am
No we should not give up on ourselves. We here for a reason to change people's lives and be the best person we can be.
No, not at all. Ever. As a life on this earth, you are made to be strong, and you are made to survive everything you must go through to get to your happy ending. Never give up.
Anonymous
July 26th, 2016 1:33am
No. You shouldn't give up on yourself. If your body is staying alive to keep you living, you have a responsibility to your body to give yourself a chance.
Absolutely not. You can over come any obstacle in life as long as you strive and shove forward. At times that seems to be the only option, but it's not please reach out for help.
Anonymous
October 31st, 2016 9:53am
You should never give up on yourself. Trusting our own self helps build confidence and growth in our life.
Never Give Up! Never! If I did that I wouldn't be here today. Life is very precious and we never know what's gonna happen. That's why we need to enjoy it an live it before it is to late. Surround yourself with positive people! Keep negativity away from you. Make a list and put it on fridge of things you want to do an achieve them one by one even if it takes years at least you can say I done what I wanted In my life. Write 3 things down you like about yourself and put it on fridge or somewhere you will see it an read it everyday. Please don't give up! You deserve to be here living your valuable.
Anonymous
June 20th, 2017 12:35pm
No. Do not give up on yourself. You are enough and you will make it. It'll get better, I know it will
Never. Everyone copes with bad experiences differently but there is no way giving up would be one of them. There are so many people out there that care and would love to help you!
Anonymous
November 21st, 2017 10:27am
You should never give up as even though it may seem horrible, there's always an ending, and as long as you reach that, you're doing okay.
Never. No one should ever give up on themselves, no matter what situation they are in. There is always another way to solve problems. You can do anything if you believe in yourself! Stay positive!
Never. You are the only thing you really have influence on. Your decisions and choices define you and your life. You have a power to change for the better. Sometimes, when we want to give up on ourselves, life gives us a lesson that teachs us how to keep fighting and keep living.
Absolutely never! You're the one you can always count on! you have endured so much. No giving up now
Absolutely not, never. If there is one thing in this world that means everything, it is you. The one person who will always be there for you, is you. The person who will always love you and respect you and support you, is you. Don't give up on that person, and don't let that person give up on you. Take the necessary steps to get back to a healthy relationship with yourself, because in the end if we are happy with ourselves we can live happily for a lifetime.
Never ever give up on yourself! Everyone, myself included, has had times where they feel especially low. For me the thing that helps feeling like this the most, is reminding myself I have value, or getting out into my community and helping people who have things worse than I do. It doesn't always help remove the feeling entirely but little by little progress is made. Every life has value and every person has worth. Even when you can't see it. Sometimes for me just knowing that helps me get through the negative headspace and back to feeling like I don't want to give up on me.
Sometimes, it is all to easy to feel that the challenges of life are insurmountable. You struggle with the same issues over and over. You are simply tired. So rest. Forgive yourself for doing what you needed to do to survive so far. Take a look at your issues from a refreshed perspective. Learn all you can about yourself. All your complex angles, and defenses and joys. Breathe and embrace life. If you feel fear - face it. It is all apart of living, growing and returning home to yourself. You may start to see the miracle that you are.
Anonymous
February 11th, 2020 9:18pm
No. You should never give up on yourself. It is human nature to seek out happiness, and even law that the pursuit of suck is legal. I don't know what you are going through, but remember that no matter what you should remember that you live in a time where everything has the ability to improve and be better. Never give up, and certainly not on yourself, because you are worth so much more than failed effort. You may not realize it but you are loved, and there are people out there who will listen and help you. Never give up.
No. Your question suggests that you have not given up yet, and you have goals that matter to you a lot. Perhaps you're trying to find education, get a job, get into a relationship, recover from an addiction or mental health issue, or something else. Whatever your goals may be, they are worthy goals, and you deserve to live a good life. Personal attributes are not fixed and can be changed. Everybody including you has the capacity to improve themselves in terms of their skills, personal qualities, and circumstances. Identify what you want and what you need to do to get there. Break down your goal into concrete and more manageable steps. Spend a bit of time working towards your goal each day or as regularly as possible, and things will change gradually. Results take time before they appear, so be patient. Talking to family members, friends, or a psychologist/counsellor can help encourage you, stay motivated, give you people to be accountable to, and help you realise that you are worthy and capable of becoming a better person.