Question
Suicide Chat Room: What are good resources for people who want this?
97 Answers
Last Updated: 01/05/2016 at 11:23pm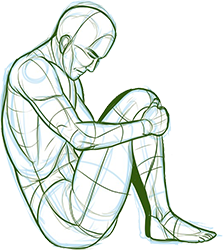 Moderated by
Lisa Meighan, BSc Psychology (Honours)
Counselor
Hello, I am Lisa and I work in a person-centred approach mixed with cognitive behavioural therapy. I believe we all have the potential to be the best we can be.
Top Rated Answers
I read a quote somewhere that said, 'People who die from suicide don't want to end their life. They want to end their pain.' I think that's a reason.
Anonymous
November 29th, 2015 11:38am
Sadness, depression, loneliness and bad circumstances and negative atmosphere .. Or feeling that you're not good enough anymore
I'm not sure what this question means. But I had a brother who committed suicide almost 2 years ago, so I have more than general knowledge on this topic. I think instead of referring to suicidal people, we could talk to them more. I got laughed at once on a suicide hotline, and I'd rather help someone who is suffering than to refer them to peolle who might not be helpful. Time is everything and I can't turn someone away because it's about suicide.
Anonymous
October 29th, 2015 7:19pm
Sadly, listeners here aren't trained to handle crisis, that is why listeners always refer people when they are suicidal, here are some resources for help related to suicide: 1-800-273-8255 www.imalive.org/ www.crisischat.org/ www.suicide.org/ suicidepreventionlifeline.org/GetHelp/ international-suicide-hotlines.html www.metanoia.org/suicide/ text "Start" to 741-741
Anonymous
November 20th, 2015 5:33pm
suicide is nothing but a permanent solution for temporary problems. you can't go back once you do. so try and work things out instead
Anonymous
September 26th, 2015 7:20am
First of all, take a deep breath and know that you're not alone. You probably feel that way right now....but, truly, you're not. If you're suicidal, please reach out to individuals trained in crisis intervention. It might be that you need to go to a hospital to be safe. You might need to call a doctor or therapist. If you have family or friends who are safe, you could try them. If those options aren't available, you can go to suicide.org, call 1-800-273-8255, or text "go" to 741-741. If the information you need is not on the suicide.org site, using a search engine (such as google or bing) to locate the appropriate crisis contacts will give you many resources.
Anonymous
August 19th, 2015 3:53pm
I would tell them that they should not only think of themselves but how it would affect everyone around them including their parents. Their parents would be devastated and their friends would be traumatized. So they need to think if they want that to happen to everyone they love or that is around them.
Suicide chat rooms would really not be a good idea. usually these persons are under tremendous emotional strain and are only going to be there to weigh one another down. Under cases of suicide emergency lines are the only hope. And furthermore special attention and treatment to be considered
The suicide hotline phone number, people say you care about them say that they do MATTER that they only EVER get 1 life to live
Anonymous
August 23rd, 2015 9:48pm
This is a very good idea . there should be a suicide chatroom which can help overcome suicidal thoughts . resources could be those suicide hot line numbers including stories on how someone got rid of those scary thoughts
Suicide is a permanent solution to a temporary problem. I have been in that position more than once before. I am so glad that it didn't work. You might fell stuck and alone right now but let me tell you that you aren't. It mighty be storming now but it can't rain forever.
The suicide prevention number. offer to have them seek professional help. Find someone they trust. 😀
Being with people who are suicidal when you yourself are can be very dangerous. It may seem better to be with people who can understand but please seek help from a healthcare provider and keep safe by limiting your access to means. Then consider calling a hotline, a list can be found at suicide.org
Anonymous
September 3rd, 2015 3:56am
1-800-273-TALK or 1-800-SUICIDE are both really good sites to use upon being suicidal, or even having suicidal thoughts or urges.
Anonymous
September 18th, 2015 12:46am
Some good resources are www.crisischat.org and www.imalive.org! They're text-based chats just like 7 Cups.
Someone or others who have attempted suicide in the past, but decided not to do so, That way they will be speaking to someone Who went through similar experiences.
http://www.suicidepreventionlifeline.org/gethelp/lifelinechat.aspx GLBT National Help Center General talkline: 888-843-4564 Youth talkline: 800-246-PRIDE (7743) http://www.volunteerlogin.org/chat/ A chat service offering one-on-one peer support for gay, lesbian, bisexual, transgender and questioning people, run by the GLBT National Help Center. The National Suicide Prevention Lifeline 1-800-273-TALK suicidepreventionlifeline.org The Lifeline is a network of 160 crisis centers in 50 states which provides confidential emotional support to people in suicidal or emotional distress. IMAlive https://www.imalive.org/ IMAlive provides crisis intervention services via online chat. Their services are available on weekdays starting at 7pm Eastern Time and running to 10:30 or 12:30 pm, depending on the day. ReachOut USA http://us.reachout.com/ ReachOut USA uses the internet to provide information teens and young adults need and want in an anonymous, non-threatening and non-judgmental space. To Write Love on Her Arms http://www.twloha.com/facts/ Information on depression, self-injury, addictions and suicide and the relationships between them, and give hope to people dealing with these issues. ManTherapy.org ManTherapy.org is made for working-aged men who may be dealing with depression or suicide. This innovative site combines excellent information and humor. Five Alive http://fivealive.us/index.html Five Alive is dedicated to providing teens and young adults with the information they need to help a friend who may be considering suicide. Veterans VA Chat http://www.veteranscrisisline.net/ChatTermsOfService.aspx A 24/7 chat service for veterans, run by the VA.
http://www.suicide.org/international-suicide-hotlines.html this one has a lot of sources to go to, though you should probably send them direct links to where they are from so they can't reconsider, finding their help line.
Anonymous
November 8th, 2015 5:07am
The World Health Organization estimates that approximately 1 million people die each year from suicide. What drives so many individuals to take their own lives? To those not in the grips of suicidal depression and despair, it's difficult to understand what drives so many individuals to take their own lives. But a suicidal person is in so much pain that he or she can see no other option. Suicide is a desperate attempt to escape suffering that has become unbearable. Blinded by feelings of self-loathing, hopelessness, and isolation, a suicidal person can't see any way of finding relief except through death. But despite their desire for the pain to stop, most suicidal people are deeply conflicted about ending their own lives. They wish there was an alternative to committing suicide, but they just can't see one.
Look for community groups. They have those where people meet to talk about that. Or even online, like here :)
Anonymous
December 6th, 2015 8:42pm
You could call a hotline or talk to someone close to you. If you are feeling down maybe you need an outlet. You could try writing something or drawing.
Anonymous -
Expert in Depression
August 19th, 2015 8:28am
7 Cups of Tea is not a crisis line, unfortunately our listeners are not trained in this area. However I do agree resources should be available. This link has a list of hotlines around the world, I hope it helps. docs.google.com/spreadsheets/d/tcdQ3_MAa1rMU-7sf5hF-gw/htmlview?pli=1
Anonymous
August 19th, 2015 7:04pm
The best resource I had when I was suicidal was the Crisis Text Line. They were easy to reach and very, very helpful.
The 800 suicide help line or by calling the crisis center in their area. If the situation is of an immediate nature and they feel it is warranted then calling 911 may be in order.
You can always search for your local Suicide Hotline or call the National suicide hotline for all available resources located in your area.
Anonymous
August 21st, 2015 10:25pm
I guess it would be nice for them to have guidelines of how to make them feel better or to change their minds about committing suicide, also by providing hotline number for immediate assistance.
http://www.crisischat.org/ http://www.suicidepreventionlifeline.org/GetHelp/LifelineChat.aspx These are the two i generally think are okay, though i would recommend calling a hotline over a chat.
Anonymous
August 26th, 2015 9:46pm
I think some people struggle talking with hotlines, text is a good alternative but also a chat would be a great idea. For those who can't literally speak or their country doesn't commit or take responsibility with such crisis line. Not everyone live in the US, UK or Canada...
Anonymous
August 27th, 2015 1:07pm
If you'd like an online chat for suicide: https://www.lifeline.org.au/Get-Help/Online-Services/crisis-chat
USA: www.crisischat.org Canada: www.IMalive.org are the ones that I am readily familiar with, however http://unsuicide.wikispaces.com/Online+Suicide+Help#.VeB-z7JViko has a lot of resources for many other countries and links to multiple different crisis chats and such!