Question
What do I do, when there is nothing I can do that I enjoy?
15 Answers
Last Updated: 06/22/2020 at 1:53pm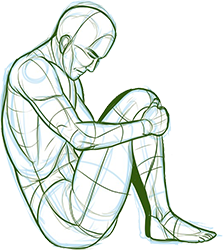 Moderated by
Psychotherapist
I have been through a lot in life too, which helps me to be able to empathize with situations, thoughts and feelings that we have. Sometimes, it's not easy just being human.
Top Rated Answers
Usually when this happens there's something that's in the way of letting you fulfill your enjoyment. Try to figure out what it is. A feeling, a thought, a current/past situation. Try to resolve that specific issue, with that out of the way then you'll be able to do things you enjoy again.
Everyone has something that they enjoy. You may just not have found it yet, or you are feeling so down that you do not feel positive about anything that you experience. Find the root of why you can't be happy about anything. Or try to experiment and try new things, to see what suits you.
When I was really, really down and found enjoyment in nothing, the best thing for me was to be with others who were enjoying themselves. It sounds silly but laughter truely is infectious and often I would start to feel just a little bit better to see the people I loved having fun, and being happy. It also reminded me that things would get better at some point, and i could be happy too :)
when there is not anything that you enjoy, that means you're tired of your activity or your circumstance (friends, etc) taking good carea and treatment for yourself will do. use some aromatherapy, sit down, relax your body, close your eyes, take a deep breath, focus and stay in the present, don't think anything, just think what makes you happy, open your eyes. drink some coffee/tea/milk and get a massage
With this problem possibly changing the routine can help a lot. You can change how you enjoy things, maybe reading books it's not what appeals to you. Then, you can try to read another kind of books, or do something completely different. Play videogames, watch movies of another type, join webpages which are funny or interesting to you, help other people also can be very enjoyable if you are an empathetic person. The point is do something different that you do in your normal life, maybe different activity or different place is the best solution. Don't give up!
If you can't enjoy anything, you are probably depressed (there is also a possibility that you may be physically ill, so going to a doctor may be a good idea to rule this out). The first step is to find out why you are depressed--is it from your life circumstances, or your brain chemistry? Although the former is a more likely cause, once you become depressed from outside causes, your brain chemistry often wants to continue the depression even if the outside cause has stopped (out of habit, basically). So in any case, going to a therapist can help you sort these things out and figure out if talk therapy and/or medication could help you. I don't want to assume that you can afford therapy, or a doctor, but these are the things you can try to get that are most likely to help.
Anonymous
June 22nd, 2020 1:53pm
In such situations when our mood is quite down and we do not enjoy normal things, the key to change the mood is in exploring things and talking to people around us as much possible. There is a complete exercise which is called Visualization of past good experiences. Even if there is no one to talk about it, you may just start writing about your experience you had about that wonderful place. It will change your mood very soon. Whenever you have a bad thought, just grab the book and divert your mind to the happy experience and do not let your mind to control you. Rather use it for your own good.
Anonymous
June 7th, 2015 1:13am
Nothing isn't possible. There's always something new or untouched out in this world that you can do. It's time to go exploring and cover different interests and hobbies.
If there is nothing you can do that you enjoy, then you could try a new activity such as yoga, meditating, reading, colouring, drawing, writing or playing with a pet, if you have one. If all else fails, contact a friend or a listener at 7 Cups of Tea for support.
Are yousure that you've tried everything you can actually do? Sometimes (actually pretty often) we think we can't do things, we are actuall capable of. My suggestion is to try something new. It doesn't have to be something big or expensive, just new.
Have you tried everything? Surely there is so many things out there you didn't know existed or you've never tried. Try and be diverse and more open.
Anonymous
July 12th, 2016 12:52am
Find something you really enjoy doing. Whether it be a sport, creating art, or even just exercising.
Take a step back and draw in a deep breath. We don't enjoy things because we are under stress. Take time to quiet your mind and then you will be able to focus on what you can enjoy.
Anonymous
April 3rd, 2018 5:21am
Many times when I go through these moments I have to push myself too go out and do something yes it may be boring it may even be hurtful it may bring you two points of reflecting back to painful dreams but the most important thing is is that you got to make an effort to make a change or positive change for yourself
There is always something that we do and that is fun. It is all about exploring it. When you don't find time or invest efforts to explore it, then you might not find it at all. Remember it is a common problem and many of us go through it. It might either be a phase or a problem, on the other hand. Find the one thing that keeps you engaged. Keep doing it until you explore better ways to do the same thing efficiently. If you stay out of activities, you probably may not find what interests you. Your interest might lie in a subactivity sometimes.