Question
What is the best way to just stop the depression from taking away the future you would see?
12 Answers
Last Updated: 03/19/2018 at 12:38am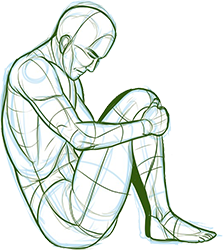 Moderated by
Psychologist
Life is chaotic and you need to rest if you're tired. I am here to help you relax until you are ready to start over again.Your mental health is priority, so is your happiness.
Top Rated Answers
Think about what you want to do in the future. Whether you want to have kids/get married/or travel with you friends. Think about those small moments in the future where you will think back to this time, and be happy that you decided to stay and not give up. Think about that moment when you're high up on a mountain staring over the landscape and think about how breathtaking that would be.
Depression is not an easy thing to deal with obviously, but there are things you can do to stay positive! If you ever feel yourself getting down, look at all the positive things, what are some cool things you did today? What's a nice thing you learned today? What's is something you liked about today? Just try & stay positive!
Have smart feet. Move. Momentum is depressions enemy. Engage in some cognitive exercises that open your mind.
megzj
June 16th, 2015 6:26pm
I find the best way is to try not think about the future and focus on the now that will bring you to your happy future.
Improve your health; on all levels. Meditate. Exercise. Find people to talk to; to be with, every day. Stay away from drugs/alcohol. Help other people. Try to do things that you enjoy. Get up and out of the bed and go stand outside; watch a sunrise, or a sunset.
Go out for a walk, see the world around you. Take some time to yourself to relax, reflect and be yourself. See the depression for what it is, and try to put a spin on each negative thing it tries to bring into your life.
Speak to someone who would Listen to all your thoughts and that then would help you get through depression
Anonymous
February 2nd, 2016 4:24pm
Do things that make you feel good, pick up a former hobby you used to like, push yourself to do things, even when you don't feel like it. The outcome of it is uplifting.
Anonymous
November 15th, 2016 5:05pm
Focus on your life dreams and remember what you have always dreamed of, either as a child or any age. Try and imagine yourself doing that and think about how you could try and achieve it
Ashiya
February 7th, 2017 6:46am
Try self-motivating yourself with quotes like, "I won't let anything stop me" and this can include people, relationships or the weight of depression. Taking it easy but chugging along can get you where you want to be and making sure you communicate with others about it can give others an understanding that you need some time off or need to go on your own for a bit to tend to it. A mental illness is a touchy thing and does need your attention and mending. I tend to do this quite often in my schooling and work.
Depression is not your fault. You didn't chose the condition and sadly you can't click your fingers to make it go away. But you can keep going in recovery until you notice you are no longer controlled by it. Take medication if it is prescribed. Make yourself do one task you struggle with, even if it is brushing your teeth that day. Stay connected with friends. Find new hobbies. Keep striving and you will get through.
Anonymous
March 19th, 2018 12:38am
The best way to stop your depression from proceeding into impacting your future by recognizing it, talking it out with someone and seek resources and proper referrals to help you as well as finding ways you want to improve your future lifestyle.