Question
What is the first step in self-care for depression?
32 Answers
Last Updated: 05/04/2020 at 11:10am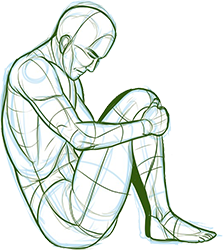 Moderated by
Art Therapist
Life can be messy. Sometimes you need a little support to make your way through it. I love to help guide people through their challenges & to find the beauty in our messes.
Top Rated Answers
Remember your happy and cheerful days as it will trigger a desire to get those things back. Happy days often brings hope and shine in our eyes. The shine we are looking for lies there and then you will start to miss the old version of yourself and your mind will automatically remind you of the real you. Once it started then you could make a way to excel in a positive direction. This process will go on and beside it writing your exact feelings or talking to closed ones would help. There is a high need to spend a lot of 'me time' because you need time to clear all the mess that leads to depression. And offcourse it will help you to regain your lost confidence.
Try to be productive and get things done. Setting schedules will help with this. Whether it's doing school work, tiding up or doing a job that you've been putting off for a while, it will help. It keeps your mind busy so you are focussing on something else and it makes you feel better about yourself because you will have achieved something that say. Exercise can really help too (even if it is just a small amount) because it will help you feel less tired and it is good for both your mental health and physical health. Make sure to try and take some time out for self care too