Question
What is the main cause of depression?
35 Answers
Last Updated: 11/02/2020 at 5:17pm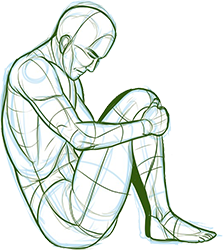 Moderated by
Licensed Professional Counselor
"I never lose, I either win or I learn" (Nelson Mandela). I can help with depression, anxiety, PTSD, survivors of sexual trauma, and infidelity.
Top Rated Answers
I think it's mainly a lot of feelings trapped into one and it drives you mad but you can't really do anything about it because it comes back. So sorry if you are having this issue in your life right now. You deserve so much more.
Anonymous
July 17th, 2018 6:40pm
There are all cause of depression the main cause is lonliness
There are so many different causes of depression and they are different for everyone! My advice is to not get too caught up on the direct cause if it does not seem obvious right away, instead, focus on what makes you feel better! Being happy is our main priority and if you are struggling with that please please please reach out for help! Whether that be with a listener on 7cups of tea, a friend, a family member, a trained councillor on a helpline, or a registered councillor or psychologists. You will get through this and there are so many people out there that you can talk to!
Anonymous
July 23rd, 2019 9:08pm
there are many causes: environmental factors, social factors, trauma, biological factors, etc. growing up in an abusive household, for example, can make someone predisposed towards depression, as well as enduring bullying or experiencing a traumatic event. there can also be a genetic component, where depression can run in certain families. also, many people experience deficiencies in chemicals like dopamine and serotonin, and taking medication to help fix that can help with their depression. in short, there isn't just one "main" cause, and it really depends on the person.
Anonymous
September 14th, 2020 12:34am
The reason for depression in teens can stem from many circumstantial things that trigger it. Having issues that negatively impact self-esteem, such as obesity, peer problems, long-term bullying or academic problems, having been the victim or witness of violence, such as physical or sexual abuse can be reasons. There are also multiple other causes of major depression, that aren't circumstantial but rather environmental. Factors such as genetic vulnerability, severe life stressors, substances you may take (some medications, drugs and alcohol) and medical conditions can affect the way your brain regulates your moods which can cause depression. Hope this helps!