Question
What kind of support is available for people suffering with post-natal depression?
15 Answers
Last Updated: 03/18/2019 at 10:26pm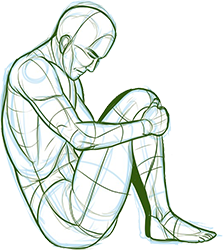 Moderated by
Danielle Johnson, MSED, Community mental Health Counseling, LMHC
Licensed Professional Counselor
Sometime situations and feelings can be so strong that we struggle to function. You are not alone! My practice is flexible and open-minded and tailored to your personal needs.
Top Rated Answers
Anonymous
July 4th, 2017 5:21pm
Have you mentioned this to your doctor? You should be able to get some local support resources from your doctor's office or you can also Google post-natal depression and find other online support options.. And, of course, you can always connect to a Listener here, visit the 7 Cups Depression Community https://www.7cups.com/home/depression/ and the depression support group chats. Good luck to you..hugs
They need a support from a friend, family, those people whom he/she was close with such as these people must show empathy to those people suffering from depression
Support groups are available in your area. Check online for groups in your locality. Mental health treatment is also available. Contact your local mental health clinic for more information!
There is a ton of support, through medication, therapy, and support groups of all kinds. the best place to start is with your OBGYN or your GP--be open about what you're experiencing, and they will be able to help you find the support and services you may need.
Anonymous
November 16th, 2014 5:50pm
First, you can ask a doctor. They're there to help you. Just tell your parents or someone at school you can trust.
Anonymous
November 24th, 2014 9:08am
Mental support and family support.It helps the people to feel more comfortable and does not feel any fear.
There are all kinds of support available for people suffering with this kind of depression. Possibly the most common is counselling, if you have visited your doctors, or you can be prescribed medication there and / or a mixture of both. Depending on your area there are a lot of support groups available for this and online, there are also support groups for post natal depression sufferers.
Erynn
December 6th, 2014 6:43am
Hmmm. It would depend on your area and medical coverage. I would ask your GP or doctors who help you care for your child or helped you during pregnancy. If that doesn't work, I'd ask therapists in your area - even if the first one you contact cant help, they may be able to help you navigate your local counseling area and find someone near by who can help you out. You might also be able to research online and find people specializing in post-natal depression in your area.
Anonymous
April 30th, 2015 1:59am
Your friends are there for you, councillors, adults, therapists who would love to support you during this time
The best thing to do is to seek professional help. Talking with a post-partum obstetrician , counselor or therapist or a combination may help and offer support for one who is suffering from this.
tjb28
December 1st, 2015 3:14pm
A gp can offer support on post natel depression,this is more common than people realise. Therapies such as cognitive behavioural therapy can help.
Anonymous
June 20th, 2016 5:46am
Family members and friends will always be there to support you. There are also many other supports out there. Such as http://postpartum.org/
Support from family and friends those are the basic first aid help. Talking and opening to your love ones plays a big role in overcoming the post-natal depression. Plus, going to a therapist can be of help to.
My best advice would be to speak to a doctor first. We need to understand how severe this depression is. A doctor will be able to understand how bad you depression is. Counselling can be provided or a psychologist if needed. You will also get a lot of advice from a professional who have dealt with a lot of other women in the same situation. You get the change so try some medication if you feel like it would be helpful. In the meantime you can do some online research to try and understand you are feeling, why are you feeling it and how to cope with it.
I would try to find a listener who specializes in this and request them personally :) This way, you know you are talking to a listener who has a background in this specific topic, and you won't find yourself with a listener who understands you and what you are going through. There are many different varieties of people who are willing to give a shot at listening in regards to many topics, but with such a specific topic, specific support is probably better. You can submit a personal request by searching for listeners :) If they are online, request a chat with them! If not, request one to set up a time for conversation.