Question
What makes a person sad?
102 Answers
Last Updated: 03/06/2018 at 3:16am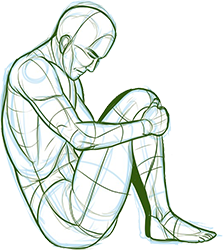 Moderated by
Clinical Social Work/Therapist
If you are struggling with anxiety, depression, relationship issues, I'll partner with you to improve your mood and your life in a nonjudgmental and supportive way.
Top Rated Answers
Anonymous
April 15th, 2016 4:01am
Sadness can be a cause of a lot of events that's going on around a person's life. It can be inidividual causes or a cause of combination.
WE! yes ,we hurt ourself! its in our hands to control everything,either we feel sad or happy...!!!!!
Anonymous
April 17th, 2016 5:49am
Alot of things in life can cause sadness. Friends, Family, Work, and even their significant others.
Everything, nothing, siblings, parents, pets, and honesty anything. You have to understand it and try to find a way to distract yourself from the sadness.
Not observing and be awe of the things that he should be grateful for...!! Also not having in mind that everything it´s temporal and i´ll shall pass... hang on there :D
Many things can make a person feel sad. It depends on the situation, how confident they are with themself and how supported they feel by by their friends and family.
Anonymous
April 21st, 2016 10:42pm
A person is sad for different reasons, maybe he's hurt , maybe the person he loves Is hurt, maybe he lost someone and maybe there is no reason.
Negative thoughts or negative life events or situations or a chemical imbalance. It can be any one or combination of those 3.
We are all created differently; What makes an individual happy? take those things you have saddness take everything you have emptiness.
sad is just an emotion that we feel. to live the feeling of sad, is to live with a burden or regrets
Anonymous
July 5th, 2016 7:51am
Different things can make a person sad. Not everyone reacts the same way to everything that they see. What makes me sad, might not make you sad.
There are many things that can make a person sad. For instance, loss of a loved one. Doing bad in school can make someone sad as well. There are a ton of things that can make someone sad but always remember to keep your head up and try your hardest to get through the day.