Question
What to do if you think you have depression, but aren't sure enough to talk about it?
3 Answers
Last Updated: 08/10/2020 at 9:58am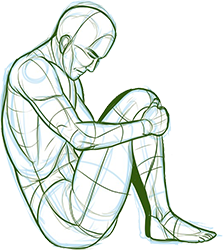 Moderated by
Psychologist
I treat life changes, women's issues, and issues of aging using evidence-based treatments with healthy doses of warmth, empathy and humor to enhance healing and growth.
Top Rated Answers
I'd look for symptoms and keep a track of my mental health,it's pretty important for everyone to take care of themselves too so I'll take a break from everything to promote positive vibes into my life.Realising when to seek help is an important part of life so waiting patiently while keeping an eye on your condition is the best you can do, although talking about things never do anyone any harm so it's good to talk it out when we feel like it's necessary,As a listener I can only help people when I take care of myself properly and promptly.
Anonymous
April 1st, 2019 10:54am
Maybe you should talk about it with your parents or a professional. It is better to talk about it and to make sure you don't have any symptoms or if you have it , to take care of it before it gets worst.
Anonymous
March 3rd, 2020 4:26pm
Hello! It is completely normal to feel down and experience sadness sometimes. When these feelings begin to affect your everyday life this can become problematic. Regardless of whether you have a diagnosis of depression or not, it can be helpful to talk to someone about these feelings. If you feel you may be depressed, speaking with a licensed professional, such as a psychiatrist, could provide you with a diagnosis. In the meantime, speaking with a listener here on 7 Cups could help you identify why you are having these feelings. There are also lots of online resources and apps for those who are struggling.