Question
When you have both depression and anxiety, does depression cause anxiety or does anxiety cause depression?
2 Answers
Last Updated: 03/19/2018 at 8:24pm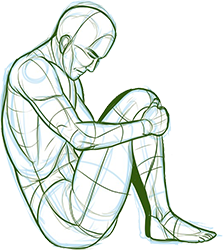 Moderated by
Licensed Professional Counselor
There are many times in our lives when we could use an ear to listen and help us through the things that we are struggling with. I can do that.
Top Rated Answers
Answering that question is difficult , it's kinda like asking "What came first, the chicken or the egg?" . Anxiety and Depression are often inseparable, like a pair of Siamese twins. When one is present you always have the other, and often times they feed off of each other. When your depression gets bad, you may become more anxious, and this can create a vicious cycle. So instead of thinking about what disorder caused what, try thinking about ways of not feeding the downward spiral.
Anonymous
March 19th, 2018 8:24pm
In my opinion, anxiety can cause depression and depression can cause anxiety. When with depression, life will seem dark and so anxiety will be easier to catch. And vice versa.