Question
Who can I talk to about depression?
135 Answers
Last Updated: 02/20/2018 at 2:29am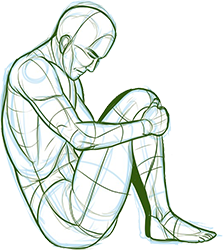 Moderated by
Counselor
Counseling and psychological services are my passion more than my work, It is all about love, and love is the only real value.
Top Rated Answers
You can always come to 7 cups! But other options include a loved one, a close friend, and maybe even a teacher.
Anyone you trust is a great start! Tell a parent, teacher, aunt, friend, or someone else. It's always a wise decision to go to a professional if you can, since they can really help you best. And of course, all of our lovely Listeners here at 7Cups (:
I think it's always okay to talk about depression with people you trust. It's no different from breaking your leg or having the flu. It's a sickness. You would never try to hide your broken leg, you wouldn't try to walk on it to cover it up. People you trust would be a great place to start. Parents, doctors and trusted professionals are also good. And, always, ANYONE here at 7 cups!!
You can talk to whoever you feel comfortable with. It can be your family, close or not-so-close friends, colleagues, teachers and so on. Some people find it less stressful to chat with strangers, because they are not likely to judge you by your previous expirience - they only know you know. And I like it this way too - and it's especially good that 7 cups is a community for that! And, of course, you can discuss things with your psychologist/therapist. Don't feel guilty if somebody struggles to understand you - depression is a hard thing for everyone. Good luck!
There was s many people you can talk to about depression. I would suggest talking to your parents. Another great option is getting a therapist.
mmw22
April 13th, 2016 11:30pm
Well, personally, I'd talk to someone I fully trust like a friend. But a parent or someone in your family would also like to know what is going on aswell. But, if you wish to seek professional help, maybe try talking to a counselor at school, a psychiatrist, or a therapist.
Anonymous
April 15th, 2016 3:28am
Find a GP who can refer you to a therapist. If you need help in the meanwhile you can be here on 7cups or reddit r/KindVoice to help you out!
you can talk to someone who you trust...someone who respects you and cares about you. also, this "someone" should be a person who is mature enough and has knowlege already about depression, so that they can better understand all of what you tell them. make sure that the person doesn't mind sensitive topics, like depression, self harm, etc...before you go talk to that person, whoever they may be. so like parents, teachers, close friends/friends, relatives, therapists, mental health workers, your neighbours even
Well you can talk to some of the listeners here in 7 cups. Or if you feel you need a little more help than that there are mental health professionals that can assist you.
Anonymous
August 2nd, 2016 2:03am
You can talk to listeners on here, teachers, parents, doctors there's a lot of people who would be very willing to help you through this
You can talk to us at 7 cups. We have a range of listeners and therapist who are knowledgeable in depression and wish to help those struggling with it.
You can talk with most any listener here on 7 cups about depression. If you feel your friends or family might offer support and you trust them, it is not a bad idea to discuss it with them as well. When you feel that your depression is too much to handle on your own, it might be good to talk with your regular doctor to see what your options are.
Anonymous
April 11th, 2017 1:55am
There isn't any specific person you need to talk to about your feelings; it can be from your parents to your neighbor to your dog to your teacher to the friendly cashier at the grocery store. If you feel you can trust them and they are supportive, talking to them might really help you get through the situation.
There are are so many people that you can talk to! Never be afraid to reach out to a friend, family member, or therapist. Make sure who you're opening to to someone that will be sympathetic.
Anonymous
January 1st, 2018 12:24am
Therapists, your family, people you trust. You can also find other people with depression, such as some on this website to talk with, because they know what you're going through.