Question
Why do I wake up at 3am?
93 Answers
Last Updated: 05/09/2016 at 1:30pm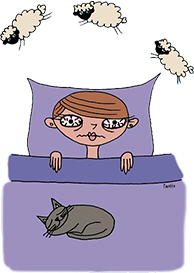 Moderated by
Licensed Professional Counselor
I believe silence creates a cycle. With empathic and collaborative therapy, we break the cycle. I help clients feel validated and supported passed anger, shame, and anxiety.
Top Rated Answers
Like I've said before, it could be insomnia. It could be nightmares you're having, too many things on your mind. There's a lot of different possibilities.
There was once that I woke up at 3am, I woke up finding myself not being able to move my body when my mind is entirely awake. I remembered vividly staring at the ceiling as my family were sleeping. I tried moving my limbs but it didn't turn out possible and the sleep paralysis continued for 2 to 3 hours before I start feeling bodily sensations. I remembered that I was kinda telling my body to "move, move, move". It's quite an experience I would say.
Anonymous
May 9th, 2016 1:30pm
i guess its because you are used to that,