Development of Eating Disorders
Goal
To be able to understand how eating disorders develop
Development & Maintenance of Eating Disorders
Some people have a greater pre-disposition to developing an eating disorder than others because of its heritability. Puberty is the onset of eating disorders for many individuals, which may be due in part to hormonal changes occurring at the time. Outside events can also contribute to changes in eating habits and patterns. Sometimes specific events related to being humiliated about appearance can occur that play a critical role in the development of an eating problem.
The changes in eating typically entail eating less, stopping eating altogether, or overeating. When external events feel outside of your control, eating less or stopping eating may result in a sense of personal control. Eating less may also be an indirect approach to influencing other people in that it can be viewed as a way of exhibiting feelings of distress or anger or an act of defiance.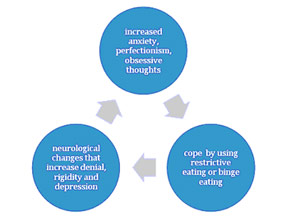 Overeating, on the other hand, is often associated with the thought that food is a treat and can serve to comfort the individual in the absence of consoling from another human. Binge eating is often attractive to people experiencing adverse events and associated changes in mood. Binge eating is distracting, so it may help to get the person's mind off of the adverse event. Since binge eating has a sedating effect, strong mood states can be dampened down following the behavior.
As you can see, eating problems often initially serve a useful function, such as providing the person with a sense of self-control when other aspects of their life feel beyond their influence. Over time, however, the negative aspects of eating disorders, such as health problems, begin to outweigh the positives and the person with the disorder begins to feel trapped with no way of escape.
Many people with eating disorders lack self-awareness, coping skills, and problem solving skills. These deficits maintain poor eating habits and need to be addressed in order to overcome disordered eating and the cycle shown in the diagram above.