Question
What Can I do to Help me Fall Asleep?
1 Answers
Last Updated: 07/13/2019 at 10:09am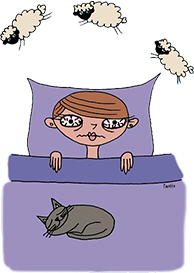 Moderated by
Social Worker
I offer a warm and non-judgmental space for you to work through your problems. I can help you with anxiety, disordered eating, depression, relationship problems and more.
Top Rated Answers
1. If you like reading keep reading stories sitting in your bed it helps. 2.Blink your eyes continuously for a minute. 3. Listen music for sleep. You can download it from YouTube or Google playstore. 4. Do simple exercise before bedtime. Like rotating your arms, folding and stretching your legs. 5. Have a big meal. It helps. 6. Make your bed neat. Use good bedsheets , many pillows and make the room dark. Darkness helps .