Question
Why do I feel like I'm constantly numb?
8 Answers
Last Updated: 07/16/2018 at 6:00pm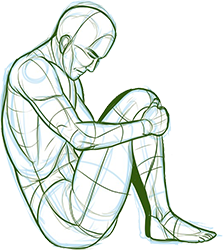 Moderated by
Art Therapist
Life can be messy. Sometimes you need a little support to make your way through it. I love to help guide people through their challenges & to find the beauty in our messes.
Top Rated Answers
It's always good to think about how satisfied you are with life, in my case i felt this way as i didn't do very much and the loneliness became numbing, are you satisfied? If not then i'd recommend a new activity! It really does help; although it seems daunting it makes life more interesting.
Anonymous
March 9th, 2015 8:12pm
it could be disorder based, or it could be that because you've experienced traumatic past events your mind is trying to block off any other feelings.
Because you have put a wall up, between you and your emotions. It's easier this way, it allows you not be hurt as much. However, you'll never sort out if you don't face your issues.
Sounds like depression sweety. That's something you should definitely go to you're doctor about just to be on the safe side and make sure. I'm so sorry you feel this way as I know how hard it can be. Please take care of yourself :)
Because you are feeling that way. Don't feel numb, keep yourself up and positive. Read books and keep yourself happy and busy.
Numbness can happen for a variety of reasons, such as depression. Sometimes we get caught up in ignoring our emotions that it starts to become second nature. A great way of dealing with that is talking to others.
Because you are going through alot like most people and talking about it can lift the weight or burden inside of you
You might have depression and you should talk to someone you trust about how you feel it should help