Question
Why do I always feel unmotivated and sad? :(
15 Answers
Last Updated: 04/21/2020 at 7:17am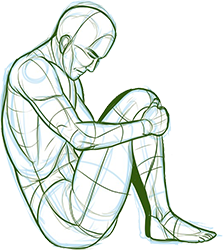 Moderated by
Psychologist
I treat life changes, women's issues, and issues of aging using evidence-based treatments with healthy doses of warmth, empathy and humor to enhance healing and growth.
Top Rated Answers
You might be going through a bit of depression, but that's okay. It may be hard, but try and find even one small moment in your day that makes you smile even if it's just eating your favorite candy bar. This is just another stage in your life and there are surely happy days ahead.
Because your not trying. I can tell by your question. I can bet you 100$ your not putting a significant effort in anything you do. Because if you did, you'd not have this problem. We only get motivation by starting something. and we only feel success and accomplishment by getting things done, no sadness there. Get moving, feel good.
Anonymous
May 20th, 2015 10:26am
Lack of motivation and sadness are warning signs of depression, and it's possible that you might be facing some depression right now.
Anonymous
April 10th, 2015 9:30am
Life can be hard. Just take a moment to love what you have and think about what you want to do. It may seem sad and bleak now, but life is always changing. The best part is coming soon.
Maybe because you are surounded with the wrong people who dont motivate you or give you complements.
Anonymous
June 26th, 2018 11:13am
It is kind of self-fulfilling prophecy, i'm sad because i'm unmotivated, i'm unmotivated because i'm sad. so to break this you need to stop blaming yourself for everything, and let go.
During this difficult time with the pandemic going on, it can be difficult to do the usual things one may do get motivated and feel happier. Just know, you are not alone. We are all going through a collectively traumatic experience on planet earth. It will not be forever and know there is always light at the end of the tunnel. Just know, there is always somebody who cares enough to listen to you while you are figuring it all out. No hard times last forever, you are not alone. Some days, merely doing the basics is enough. Be kind to yourself xxx
Usually it can be a sign on depression, but sometimes it can be changes in diet, exercise, or even the weather. Our bodies are very strange like that. ♥
Anonymous
September 29th, 2015 10:56am
These seem like common signs of depression. Perhaps you should check online for the symptoms of depression and see if it fits you?
I feel unmotivated because of the lack of goal in my life. Without having a goal to achieve or a thing to look forward to it is possible to not find the motivation in life.
Anonymous
July 7th, 2015 3:09pm
i guess that growing up or at any age really you can have bad spells alough when i say spells i know that it c an be over 6 months
Anonymous
September 21st, 2015 12:16am
because sometimes all we are sad, too many problems, sometime big, sometimes small, ife is hard, you need to pass over and feel better
Anonymous
December 15th, 2015 1:49am
Because life drags us down, but we have two choices; to stand back up and constantly face it with positivity and perseverance or to let it drown us in the depths of despair. Your choice, how do you want live your life? Existing or truly alive?
Anonymous
April 18th, 2016 11:56am
You might be suffering from depression. Make sure to do something that you enjoy so that you can get yourself out of your slump!
Anonymous
July 23rd, 2019 8:58pm
while i'm not in a position to diagnose you, a lack of motivation and feelings of sadness can be symptoms of mental illnesses like depression. additionally, it can be the result of something like burnout, where you push yourself too hard and you become mentally exhausted and drained. if you feel sad and unmotivated, spend time with people or doing things that you love, and consider seeking professional help. you're not alone, your feelings are valid, and you deserve support