Question
How can I do community service online?
115 Answers
Last Updated: 04/24/2018 at 9:15pm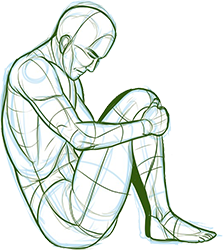 Moderated by
Social Worker
I offer a warm and non-judgmental space for you to work through your problems. I can help you with anxiety, disordered eating, depression, relationship problems and more.
Top Rated Answers
Anonymous
September 6th, 2015 4:40am
http://www.unitedway.org/blog/3-ways-to-do-community-service-online I found that this post has great resources. Additionally, contacting local agencies and asking if you can manage any online data collection or other services often works.
Anonymous
September 6th, 2015 4:31pm
You may sign up as a listener here on 7 Cups of Tea and actively help people get through their situations by listening to them.
Advocate via Social Media Whether it is health care costs, the quality of education or low-income groups of concern in the community, advocate on behalf of causes that matter. A simple tweet or Facebook post raises awareness and makes a difference. If everyone worked to spread the word about the United Way's goals via social media, imagine the impact it would make. Contact Congress about Important Issues The United States Congress needs to hear more about the issues affecting communities around the country, such as the health risks faced by American youth. Emailing a member of Congress is one way to champion this important cause. Anyone can find the time to send an email from work, home or during that long bus ride home after school. Give to a worthy cause Passionate about health, income and education issues facing the community? Support United Way today. Even small donations make a difference in the lives of others. No one is too busy to help make the community, the country and the world a better place. Anyone can find a few minutes to do some community service online. Of course, there is always more to do, but something is better than nothing. So think about getting involved today.
Anonymous
September 10th, 2015 3:14am
There are many different ways to volunteer using the internet as your platform. The more common ones include tutoring, counselling/advising, and donating. If you use social media and have a decent sized following, you can use that platform as a means to broadcast and bring attention to issues being faced and organizations which are working to fix them. If none of the above is really your thing, which is completely fine, I would suggest contacting organizations and seeing if they need any help or looking up the UN's online volunteering service page; they have several options listed there as well.
Anonymous
September 10th, 2015 1:20pm
Donating to charity, talking to random stranger online and helping them by listening and motivating them
I'm not quite sure if you want it for some sort of a school or a college or not, but if you do not then I believe this website itself represents somehow a community service. You may also help Orphan Houses' websites somehow if you're good at coding or by adding/editing contents for it...etc
Anonymous
September 12th, 2015 3:36am
You can help other people out of bullying or moderate online chats such as stuff like 7 Cups, but otherwise they'll be in a giant group.
There are many forms of community service such as picking up trash, volunteer at a shelter, ect. There is also community service online such as being a listener
Anonymous
September 13th, 2015 12:31am
Depends on what type of community service you are looking to do. Github is perfect if you want to contribute to open source projects and be part of the team.
Anonymous
September 13th, 2015 10:19pm
You can start by becoming a listener on this website. That way you could help the people who come here for help.
Lots of local shelters are always in need of volunteers and help. You can use social media to share their needs or their events they may have coming up.
Anonymous
September 17th, 2015 3:24am
7 Cups is a great place to get started, if that's what you're interested in! Of course, there are other online volunteer organizations you can look into, as well as some others that function via telephone. Run a quick Google search, and see what you find! (:
You can sign up on 7 cups to be a listener for starters. There are also many blogs you can post on to help people who need answers to their issues they are dealing with.
Anonymous
September 18th, 2015 2:55am
I recommend that you just go and actually do something for your community. There's no easy way out. Voleenteer at a homeless or animal shelter.
Anonymous
September 19th, 2015 2:54pm
By sharing resources with people all over the world, sharing knowledge, information, services and of course kindness. Raising awareness amongst peers of issues that are happening around the world and providing support where possible.
Become a volunteer listener for 7 Cups of Tea, spreading awareness through social media, sharing resources with people all over the world
Anonymous
September 23rd, 2015 2:17am
Try volunteering on different websites and such! alot of new websites might need help getting started
Anonymous
September 23rd, 2015 9:58am
You have to try to became a listener first and help people as many as you can and you do community service online
Anonymous
September 24th, 2015 2:23am
you can try helping on new websites. or volunteering on other websites.. with web design or something
lachat
September 24th, 2015 4:27pm
Most of us are do-gooders at heart. We want to run charities get involved in a project that helps the community deal with a range of issues. Until now the people who wanted to get involved in feel-good activities did not not either have the time or money to chase their philanthropic dream. Now we can do online community service without worrying about expenses. All one has to do is browse the internet for finding a cause in which one would like to play an active role.
Anonymous
September 25th, 2015 10:32pm
Doing community service online is great, but there's always a good sense of belonging when you really get out there and help other people. 7 Cups is always a GREAT place to start. By working with others and sharing your experiences, 7 Cups can launch you into a lifetime of service and kindness. Go 7 Cups! Good luck!
I can do community service online by helping people and also ask if there's anything I can do to help.
Anonymous
September 27th, 2015 1:57am
I can do community service online the same way I would do it in person there isn't much of a difference
well i do it now by doing things on this site. other then that i talk to people on facebook trying to help others with there problems. i like to hear other persons story.
You can be a listener here. You can become supporters of online groups and clubs.There are more too.
Anonymous
October 22nd, 2015 5:58pm
This experience of helping people is very awesome. To think that I can help people one at a time is very heartwarming to me, I feel like I have found my purpose.
Try searching on Google: 'online volunteering' or 'how to volunteer online'. You can also help the community by being a listener on 7 cups of tea!
Just be a listener and let the person speak their hearts out with no fear of judgement and let them speak out what they never could !
Is it mandatory? if so, you can look into what your area considers credited hours. if not, join 7cups as a listener. its a great way to give back.
Anonymous
October 24th, 2015 3:35pm
Hi, I suggest you should check some website about community service program. There are bunch of them who offers it everyone. I hope you find one. Thanks :)