Question
What are some ways to deal with a depression relapse?
12 Answers
Last Updated: 04/02/2019 at 12:32am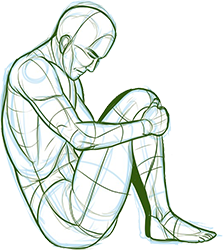 Moderated by
Licensed Professional Counselor
My work with clients is to help them recognize and build on their strengths to find solutions for the conflicts presented in their lives.
Top Rated Answers
Take this time to practise some coping skills. What has gotten you through this in the past? Stay strong.
Reach out for help. Call the doctor. See the psychiatrist. Take a walk. Do something nice for yourself. Do something you enjoy doing. Make a date with yourself. Call a friend. Get outside. Realize that it's not your fault and treat yourself as you would a good friend. Eat something healthy. Get some exercise. Learn a new skill or hobby. Take a relaxing bath. Burn a scented candle. Watch a funny movie.
Try exercising, It will increase serotonin in the body making you feel happier. Meditation is a grounding technique as well as a calm, soothing way to clear your head when everything gets too overwhelming in life.
Anonymous
November 24th, 2015 10:49pm
There are good things to distract yourself from feeling depressed. for me, I distract myself by watching TV (even if it's a show that I don't like), I play on my phone, I rest in bed and take a nap, I talk to people about it (people here at 7 cups are more than happy to listen). but everybody is different, and you are free to experiment coping mechanisms that best suit you!
Anonymous
November 30th, 2015 7:19am
Think of things that make you happy. Trying to make a positive impact on the world by doing things like volunteering. Volunteering will give you a sense of purpose.
Try to remember something that made you happy. Remembering something with a happy feeling will help you forget about the bad things.
Some ways are- complete the medicine dose and don't stop it abruptly without consulting doctor; try to indulge in exercise everyday; try to make time in your routine to do activities that make you happy; socialize and talk with people; be mindful.
Surround yourself around positive things and positive people. It will be a good way to improve you health and mood.
Anonymous
August 30th, 2016 12:54am
Dealing with a depression relapse is unique to the person dealing with it. some people benefit from communication, others benefit from writing out what they feel, and some people like to roll with it until things feel okay again.
Try to think of recovery as a set of traffic lights. Green is when you are doing well, amber may be those grey days and red lights would be your relapses. A good thing to remember is that you will never go backwards, but may have to stop, think and take a few moments to yourself
I try and focus on all the positivity that happened before the relapse started.Then I go somewhere quiet and read a book or draw or write.
Anonymous
April 2nd, 2019 12:32am
Not again... The feeling of after the crest and when you begin to slip into a relapse of depression, the "here I go again"... I need to take a moment to reboot, to think of things that pull me out of the blues, just a general list to look at and consider. That list hangs around, gets updated every so often, but it helps me look for the time or times that those thoughts and ideas help, and seems to help work the tumblers to the lock which holds hope and happiness for me. I realize that my steps, my goals aren't forced. Sometimes my list cheers me up just reading it. It is past efforts that made me smile and move forward before. It becomes like an old friend that reminds me of "good times." Like a friend I haven't seen or talked to, we reminisce about this list we share. From then, as it feels comfortable, we try those items that we shared, to bring a little joy back, that community we had from before and together we work to put a smile on my face.