Question
How can I help people without money?
126 Answers
Last Updated: 09/17/2019 at 5:40am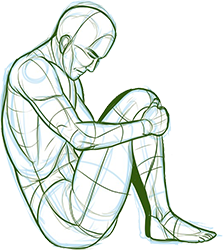 Moderated by
Art Therapist
Life can be messy. Sometimes you need a little support to make your way through it. I love to help guide people through their challenges & to find the beauty in our messes.
Top Rated Answers
Kaysha
September 5th, 2015 7:02pm
You don't need money to help people. Sometimes a simple smile can help people get through the day. Not just material.
Donate anything you no longer need like kitchen items, books, clothes, furniture to Goodwill or an op-shop, donate books to your local library or give away on Craigslist, Gumtree or Freecycle. You will feel lighter and have more mental and physical space, and you will feel going good doing a nice deed. Give blood. One unit of blood saves three lives. Volunteer time at a homeless shelter, animal shelter, animal welfare groups, op shops, hospital, elderly home. Listen to people. Deeply listen. And don't just think of what you're going to say when they've finished. And don't worry about fixing their problems.
People can be helped without money by having someone who listens to them. Truly understand them and make them feel appreciated.
Anonymous
August 19th, 2015 12:07am
Kindness goes a long way! Just offer support, love, guidance. Even just the little things such as a compliment or helping someone if they look like they're struggling.
There are many ways to help people like being friendly and compassionate with them, listening to their stories and supporting them with comforting words, helping someone who is disabled or unable to do a certain task, lending a hand to the weak or the aged and many others.
Amanda
November 4th, 2015 6:47pm
Don't give money. Spare something of your food, or your drink. Or give them a blanket, a shawl anything. Kindness is more valuable than anything else.
Anonymous -
Expert in Depression
August 19th, 2015 8:33am
You can provide emotional support, provide basic essentials like blankets and food, talk to them and help them form a plan to get better.
Anonymous
September 2nd, 2015 4:05am
Time is Money. You can help people by donating your time toward good causes. You can always volunteer for charities and non-profit organizations.
By being there for them when they need someone during a hard time. Such as stress or anxiety. Or even depression.
a lot of people say "give them money", but people need other things, if you can spend some time chat with poor people, you will see they are humans, they need to talk to, not just, eat, they need to laugh, they need love, so, lets share the love, if you have a nice meal with a poor people they will so thankfull.
Anonymous
December 3rd, 2015 5:30pm
Giving them all of your support to them :) Well, the least you can do.
Anonymous
August 19th, 2015 9:36pm
Money is not always the answer to a problem. Many times what people need is support to get through whatever situation they are in. Never underestimate the power of being someone's shoulder to cry on and hand to hold!
There are a couple sites online that are free of charge that allow people to become members and volunteer to help others such as 7 cups of Tea and a couple others also. 7 cups of tea only has trained listeners who are capable and willing to be there for members/guests.
You can listen to their problem, help them physically with things they can't do themselves, pay them a visit when they're feeling down.
Anonymous
August 29th, 2015 12:55pm
yes, the biggest help anyone can get is your time. Listening to them and make them feel good is biggest help anyone can give.
Donating food or necessities like clothes that you don't need anymore is useful. But you con also help with non-material things. Love and companionship are both very good ways to help.
Anonymous
August 22nd, 2015 10:24pm
Volunteering at your local animal shelter - or other places that accept volunteers - is a great way to help out your community without earning money.
Anonymous
August 27th, 2015 5:52pm
Just making them smile or supporting them means a lot more than buying something. Nice words and being there for people is priceless.
Anonymous
August 28th, 2015 9:52am
Money is a need but not all problems are related to money. You can help people by motivating them, making them laugh when they don't want to & by making their day :)
Anonymous
September 2nd, 2015 11:22pm
You can see what their needs are like maybe clothes, food, etc. You can offer to take them somewhere if they don't drive.
Anonymous
September 4th, 2015 8:54pm
Sometimes being a friend to those that do not have money can 'help' them. As those who have got the least are very appreciative of what they are given maybe you could share some of your unwanted things as they may be able to make good use out of them too.
Anonymous
September 4th, 2015 8:54pm
You can help people by lending them timeand an ear! You don't need money to help. I've found that the best help comes from the heart and not the wallet
Smile at them, offer kind supportive words, ask how their day is :) Talking to them in general can help :) Helping them, such as offering to lift something, to move something or to get something for them works as well :) Usually the smallest things are the most helpful and meaningful for people
Anonymous
September 11th, 2015 1:52pm
How weird it may sound, most people don't need money as help. They need a listening ear. Look at retirement homes, people there would love it if you stopped by for a chat every now and then. There is also a buddy program. where you get a buddy to help with whatever they might need help with that day.. shopping, cooking, homework, playing a game of scrabble..
Anonymous
September 16th, 2015 3:07pm
Money is not every everything u need to hepl. U can share with them something that u have. Sympathisize with them.
Be there for them. Support them. Love them. Show compassion. Compliment them. Give them attention. Make them feel wanted.
there are a lot of way to help people without money. :) one of them is be a volunteer in many social organisations. I will be very happy when I see a smiley face on their faces
Anonymous
September 19th, 2015 3:36pm
Have some sort of sale to raise money for them. For example something like a bake sale maybe. That would help them.
Bye showing them that they can hope for help even from random strangers, which means that life does not suck that much after all.
Be kind to them. Help them when they need emotional support, or if it's material things you'd be helping with, perhaps give them some of your old things that you don't want or use. Be a good friend no matter what, which I'm sure you're doing!