Question
Who can I talk to about my depression online?
115 Answers
Last Updated: 08/12/2019 at 2:08am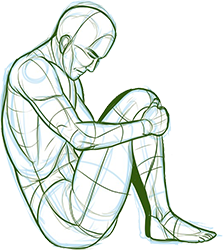 Moderated by
Clinical Social Work/Therapist
We are here to advocate, empower and provide compassion to individuals who need help.
Top Rated Answers
a lot of people are understanding when it comes to depression. anyone is applicable when it comes to talking about depression.
Anonymous
June 15th, 2016 12:27am
7 Cups is a lovely place full of talented listeners who are all here to help you with anything you might want. If you ever need to talk to someone, there are people here who are willing to help you out in anyway you would like. 7 Cups is a community, and you can talk to us here.
Anonymous
June 15th, 2016 2:59am
Any single person you trust, or any online help sites!! Whichever works best for you and lets you have the most freedom and comfort while speaking is usually the best choice. ❤️
Listeners here on this website are here to talk but if you want real advice there are therapists you can talk to online as well.
If you are feeling suicidal, I would suggest to immediately call 911. If you're just depressed and need help, you can talk to anyone of us here at 7 Cups, or perhaps other websites! :)
To 7 cups listeners ofc, they are the best and they will help you, i'am sure, hope u the best, dont think twice about it, hurry to 7 cups!
Anonymous
June 17th, 2016 4:31pm
You are more than welcome to talk to me about your depression. But if you are feeling suicidal, may i suggest i refer you to a more appropriate source? For example, a psychiatrist?
Anonymous
June 17th, 2016 6:29pm
Any Listener on 7 Cups has a job to listen to you talk to whatever it is you have a problem about, many Listeners talk about depression.
You always can talk about your depression with online therapists or listeners, You can have skype sessions in order to see your therapist and feel more comfortable. If you have any faithful friends in the Internet and you trust them, you can share your problems with them. I think it's okay to talk about depression online, because sometimes it's very hard to express your feelings to your friends in real life
Anonymous
June 18th, 2016 11:23pm
Anyone certified listener on 7Cups! Thats what were here for dont be afraid to contact any of us. We do our best
the trained listeners on 7 cups of tea of course :) Who better than them to help me out with my depression?
You can talk to me or anyone else who is an active listener. There are also online therapists so you can always do that too.
Here - on 7cups! But there are also many other places, like r/depression, the depressionforums, etc. There are many places you can get help for depression on the internet - some communities may suit you better than others. But remember 7cups is here for you if you need help!
BCWC
August 1st, 2016 9:58am
You can talk with listeners, you can talk with therapists over there. You can talk with the chat group about your problem.
Anonymous
August 2nd, 2016 12:06am
On 7 cups we have many trained listeners who you can talk to and may refer you to a therapist who can help with depression
You can talk to Seven Cups of Tea listeners of course! We will always be here in your times of need,
Anonymous
October 11th, 2016 5:41pm
You could talk to anyone online about your depression. Here at 7Cups there are many people willing to listen. If you think you're in need of some professional help, you should try talking to an online professional therapist or counselor to help you cope and give advise on how to better yourself.
You're in the right place! There's hundreds upon hundreds of people you can talk to here. Hundreds of supportive people that care. If you're looking for a professional, there's plenty of free hotlines and therapy sites around. :)
Anonymous
November 1st, 2016 8:02am
You can talk to listeners and expert therapist who would help you and guide you during difficult times
Anonymous
March 6th, 2017 7:08pm
Anyone you trust or anyone who will commit to keep it confidential. A professional listener would be the best option.
Anyone on 7 cups! There are listeners, chat rooms, threads and communities. Also if you need, there are therapists on here too. All the best x
Anonymous
February 6th, 2018 8:55pm
Well you've answered your own question by coming to 7Cups! :) we have a wide variety of listeners whom could talk to you about depression, same with some activities and resources! https://www.7cups.com/depression-help-online/lesson1.html https://www.7cups.com/depression-help-online/
Anonymous
July 16th, 2018 12:28am
You can talk to any of the listeners, or in a depression support group message here on 7 cups. 7 cups also has services to help you find online therapists.
Anonymous
July 24th, 2018 1:11am
7cups is a great resource for talking about your depression online! I would suggest finding Listeners with some experience with depression too, just so they understand you a little better.
Anonymous
August 12th, 2019 2:08am
7cups is a fantastic resource that can totally help! there are also other resources, like iPrevail, the crisis text line (741741 in the US, 686868 in Canada, and 85258 in the UK), and if you're in crisis, there are resources like the US national suicide prevention lifeline as well as equivalent resources across the world! stay safe and be kind to yourself.