Question
Who can I talk to about my problems online?
148 Answers
Last Updated: 06/05/2018 at 7:47pm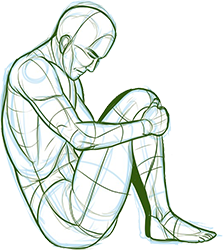 Moderated by
Courtney Cline, MS in Psychology and MS in criminal Justice
Counselor
I have 15 years exeperience in working with clients suffering from depression and substance abuse. I have worked with children and adults and believe in a holistic view.
Top Rated Answers
You can talk about your problems online here at 7 cups of tea where there are listeners who undergo a training program to be here and listen to you, here you can talk your problems through with a listener who won't judge you and will support you. There are also chat rooms and forums here which you can use to talk about your problems too. There are other sites that offer chat rooms and mainly forums you can use but they do not have trained listeners.
Anonymous
September 6th, 2015 8:49pm
You can talk to us, We would be more then happy to talk to you about your problems. You can also talk to some of your close friends online as well.
7 Cups is a good place to talk about your problems. If you just connect to a listener on here, they will listen to your problems and help you to the best of their ability
Anonymous
September 10th, 2015 4:56pm
You can speak with listeners here at 7cups. There are other online resources, even online therapy, that you can easily find doing an internet search.
Anonymous
September 11th, 2015 1:40pm
on 7cupsoftea, there are chatrooms so you can talk to people who experience the same things as you, and you can work to help eachother. You can also choose to go to a one-on-one talk or get professional help online.
lachat
September 12th, 2015 3:54pm
You can talk to a listener. Your discussion of your problem with the listener will remain confidential.
Anonymous
September 13th, 2015 12:38am
Me. Am I not a listener? And yes, I did answer this question. Sheesh, 7 Cups, a little more creative please?
Anonymous
September 13th, 2015 10:20pm
You can talk to any listener on this website and they will listen to your problems. Other than that, There are many hotlines and some charities also have chat forums.
Anonymous -
Expert in Depression
September 16th, 2015 11:02am
Always feel free to send one of our amazing listeners a message, we are here to help and listen to you
Anonymous
September 17th, 2015 3:25am
7 Cups Listeners are great people to talk to about your problems! They're trained to provide emotional support to people of all customs, faiths, and backgrounds. Part of the 7 Cups mission is to provide a non-judgemental environment where you can feel comfortable sharing your burdens with others. If that's something you'd be interested in, you've certainly come to the right place! (:
Anonymous
September 17th, 2015 5:19pm
You can talk to any of the listeners on here and we will try to help you to help yourself.
Anonymous
September 18th, 2015 5:29am
I can talk to mentors and other listeners. If I need help I can post in the form and look for advice there.
Anonymous
September 18th, 2015 7:07pm
i can talk to a listener or i can go to a online councilor or something in between.i have been dealing with councilers and stuff for 16 years
Anonymous
September 19th, 2015 2:55pm
Listeners on sites like 7 cups, any of the free online chat services provided around the world. Alternatively friends, family and peers who you can trust.
I looked for someone who could have the same problems like me, no because he/she passed it, just because he/she could understand me.
If you or someone you know is having any problems there are many places you can go help. You can contact a Peer Support if you've had a rough chat, or you can log in as a member or a guest and get further assistance from another listener which has expertise in the areas with which you are struggling with.
Anonymous
September 24th, 2015 2:24am
There are many listeners here on 7 cups! you can just wait for one. and one will come find you. Listeners on 7 cups are very genuine
There are a lot of listeners at 7 cups who would like nothing better than to listen to you. You can either be allotted randomly or pick a listener based on your preference. We look forward to helping you out!
zaix
September 26th, 2015 10:07pm
Anyone here at 7cupsoftea or if anything more serious you can ask someone here to direct to another place for you to get the help that you need.
There's always every listener on 7 cups of tea, but if you have any friends online that you can trust and open up to they are always great sources. If you are really troubled up should probably go to a suicide, anxiety, ECT help line they are easy to find just type your problem and country
Anonymous
September 30th, 2015 1:40pm
You can talk to anyone who is willing to listen to you and you feel comfortable sharing your problems with. Share your problems with the ones who understand you or are trying to understand.
If you're still a child then childline offer brilliant support - they're more than happy to just listen to you or give you advice, and it can be any intensity of problem - from tiny problems to massive traumas
You can talk to any of us listeners on 7 cups anytime you please! I'm available anytime! https://www.7cups.com/@L05TG005E
Anonymous
October 18th, 2015 4:01am
Well, you can talk to us at 7cups! Also, there are many support chat rooms online.
Anonymous
October 18th, 2015 1:23pm
you can talk to me, here in 7 cups of tea!
One of the main components here at 7cups is the listeners. You should see a button that says "connect to a listener". If you click that, you will be able to talk about your feelings with a fellow human being. :)
Me! I'm here to listen to anyone that needs help and I'm online a lot so if you need help just message me!
there are many listeners available here on 7cups. there are also many online support groups. you can search for some in your area. best of luck.
Badih
October 25th, 2015 7:13pm
There are a myriad of sources online. Seven cups of tea is one of them; here you can enjoy the serenity of talking about your problems and the security of being anonymous!
Talk to anyone who YOU think is trustworthy and actually cares enough to listen to you. People at 7cupsoftea are always here to listen and they really do respond quick enough and show a lot of sympathy and give a lot of amazing inspirational advice. But otherwise, someone you know cares a lot about you, and won't gossip about it I guess.