Question
Why do I feel like a failure?
93 Answers
Last Updated: 11/12/2019 at 12:37am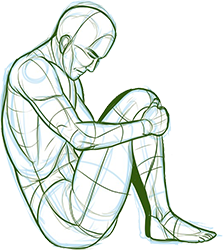 Moderated by
Courtney Cline, MS in Psychology and MS in criminal Justice
Counselor
I have 15 years exeperience in working with clients suffering from depression and substance abuse. I have worked with children and adults and believe in a holistic view.
Top Rated Answers
Anonymous
December 12th, 2017 8:08am
We feel like a failure if we always see the negative in every situation. If we feel that way, it's better to think that you only fail if you quit on trying, and that failure is just a stepping stone to success.
Anonymous
June 26th, 2018 8:35pm
Sometimes pressure and fear can lead you to believe you are a failure. It could be doubt in self, as well.
People feel like a failure because they have a tendency to compare themselves to the success of others. Others show you a highlight reel, while you only know your true story. By contrast, the highlight reel seems nicer, but only on the surface. It's best to look at life as a series of steps where you operate on your pace, on your terms, for the goal path you intended. If you don't know what that goal is - that's perfectly OK as that's human. It takes time to grow and develop that goal-oriented acumen. What matters is what makes you happy and gives you meaning. Every one of us has potential. I've seen it happen. As long as we know our limits, even doing one thing is a triumph. I hope that helps.