Question
How to talk to a therapist without your parents knowing?
225 Answers
Last Updated: 03/07/2021 at 4:29pm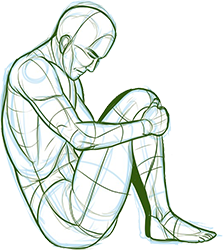 Moderated by
Psychologist
Life is chaotic and you need to rest if you're tired. I am here to help you relax until you are ready to start over again.Your mental health is priority, so is your happiness.
Top Rated Answers
Anonymous
August 15th, 2020 7:40pm
In most countries, you have rights to confidentiality when it comes to your health. This includes children and young people! The best thing to do would be to ask your GP practice for their advice. They will be able to tell you about the laws surrounding this in your country. They may also be able to refer you to online therapy or therapy over-the-phone. Depending on where you are from, you may also be able to access a service called KOOTH, which provides free, safe, online and confidential sessions with trained therapists. There is also an amazing app called MindShift which is a mental health app based on cognitive behavioural therapy.
Your school will often have resources to get started with mental health services. They will likely at some point need to get your parents involved, but that can be a really good starting place. Even with COVID-19, most schools still have mental health resources available to you. You can ask your teacher to help you get connected to start. You might be surprised by how willing your parents might be to you getting services though. I know it can be hard to let your parents know that you are going through something tough, but most parents truly love their children and want to see them happy and healthy. Even if they are "old school" and don't like the idea of therapy, they might still be open to it being helpful for you. Having school teachers and counselors on your side might help with that as well.
Anonymous
September 24th, 2020 9:45am
Dealing with mental health issues on your own can be a major challenge. Getting help is an important part of most people's recovery. But when you're under 18, it can be hard to know where to turn—especially if you don't want your family to know. The first treatments for mental illness that most people think of are therapy and medication. These are medical treatments that require working with a professional. They can be hard to access because you may not be old enough to consent to treatment, or in the United States, mental health treatment costs a lot of money, or if you use your parents' health insurance, they may know you received treatment. What options are available to me? 1- You can start by learning more about mental health. 2- Find support online. 3- Look for alternatives to professional therapy like school counselor. 4- Try some self-care.
Anonymous
October 2nd, 2020 2:20am
It is always much better to take your parents as your biggest support. But it is true some parents do not care. If you have the financial capabilities, then you can find a therapist near your place or look for one online. At 7Cups, you can talk to us for free, though most of us are not professionals. But we have a basic idea. We will try to help you as much as is within our capabilities. Maybe look for a therapist that you can visit in secrecy a few times in a month. Otherwise, you can set up sessions with professionals online. Hope my answer helps you.
You can try talking to the licensed therapists on this website as your parents don't need to know about it in order to access that feature or you could try and talk to the listeners on this website for free you dont need parent consent for that either or there are a lot of other online free therapy options. I hope you know that you are not alone and people will always be willing to help you, you can get through this don't give up :) Stay positive and I Hope this helped you.
If you are a minor you will need parental consent, however maybe talking to your parents will give them a better understanding of what you're going through and maybe they will consider putting you in therapy. Even if your parents disagree on putting you in therapy you will always have 7 cups as an anonymous teen to teen or adult to teen safe space that you can always come to for support of if you need someone to talk to. it gets better always remember that. have a very nice and wonder day good luck to you :)
That's tough. There are some therapists who will take minors without parental consent once you have reached a certain age. In the US, there are different laws about what age a minor can get therapy or medical treatment without parental consent. I am not sure about the rest of the world. Maybe check the laws in your area to see if it's possible. You will also have to have some way to pay the therapist. And you will need a way to get to therapy without them knowing. It's hard to do. It would be easier to tell your parents and ask for therapy but I also understand if they don't approve of therapy you might need to find that way to get therapy without them knowing.
It's the best if you do tell your parents and if you can't because of whatsoever reason sneak out, that's the only way. They also have therapists come to school in some countries so you can even do that if the service is available in your country. And if you don't wanna sneak out, today a lot of help is available online. And results have proven online therapy can be just as effective as in person therapy if done correctly. 7 cups itself is an example of that. But I will still say it's best if you let your parents know about this. Try to explain it to them at least once. But if you don't want to tell them because they aren't cooperative or something like that. You don't share a good bond. Their can be a lot of reasons then the two options I have mentioned before are the best. Hope it was helpful.
Anonymous
November 8th, 2020 10:57pm
I used a free website to talk to a therapist. It helped me a lot because I was afraid to tell my parents I needed help. My therapist helped me tell them how I was feeling and they were able to get me the help I needed. It felt amazing to tell them how I felt and I wouldn't have done it without the therapist I found. I never realized how much support I had until my therapist showed me. I am very thankful for everything she did for me. My eyes were opened to a whole new light I never knew was there.
Therapists generally always have a confidentiality policy in this is usually included the fact that they will not tell anyone unless they believe you are in danger. Depending on your age and where you are you will be able to seek a therapist without your parents knowing. I recommend searching for some local ones there are sometimes therapists who specialise in teens. Find a therapist you like and ask if they will take you on. Its understandable you don't want your parents to know and you deserve privacy when discussing what's on your mind especially if it may involve them or upset them.
Anonymous
January 1st, 2021 11:39pm
If you can afford it with your money, make an appointment when they are not home. Or say you are going out with gf or bf, or just friend and go to the therapy. Also, during this pandemic many therapist offer online therapy via skype, zoom etc. maybe you should give it a try? But if you don't have money for it, I think it would be the best to honestly talk with them and tell that you think you need therapy. If you don't feel like talking about it just say you will talk with them after it. Quid pro quo. I don't think that you should go and find a job to afford it yourself, it will just delay your problems especially now when you decided to go and find help. But if financial situation of you and your family cannot support your needs, and you cannot ask anyone to lend you some money, you will need to work few weeks :)
Anonymous
January 24th, 2021 5:45am
Seek help through your school guidance counselor. There are many resources in the community to assist, where you can anonymously talk with someone. Boys Town crisis helpline is a great resource and they can also provide additional resources. Ask your therapist not to communicate to parents for patient confidentiality purposes. It's okay to seek therapy without other people knowing including your parents. Therapy is life changing for so many and beneficial to mental health. Don't tell your parents, only telling others you feel comfortable doing so with. Utilize after school programs, school counselors.
Anonymous
February 7th, 2021 3:10am
If you are under 18 it is really hard to go to therapy without your parents knowing because they need your consent. However, many schools have counselors who you can talk to without the parents knowing. Alternatively, the therapist can talk to your parents at the beginning to try and convince them that this is what is best for you. When I went to therapy as a minor, my mom initially consented but did not know how often I went or what I spoke about in therapy. Therapists should not tell your parents what you speak about in therapy unless you are at risk or there is an instance of child abuse.
There is an online therapist resource available here through 7cups (https://www.7cups.com/online-therapy/?ob=1) but there is also a range of other options that can be more private and easier to access without your parents knowing: phone hotlines, text therapy, etc. A quick google search for "mental health hotline" or "text therapy" will show results in your area. Please just remember: If you are not talking on a private site with a registered therapist, protect your private information. Don't offer your physical address or offer other details that may compromise your safety. Although the majority of people online are safe, there are some who would take advantage of vulnerable people. Practice proper online safety to protect yourself.
Anonymous
March 7th, 2021 4:29pm
In most places, there is a certain age where you can see a therapist without knowledge or consent from an adult. I was able, at 17, to see a therapist for my depression without consent or knowledge from either of my parents. My advice would be to check your local laws and, if you find out you can, reach out to a therapist and tell them that you would like help without consent from an adult. It can be really nerve-wracking to reach out in this manner but most therapists understand and are more than happy to help you out.