Question
Who can I talk to about depression?
136 Answers
Last Updated: 04/26/2021 at 9:54pm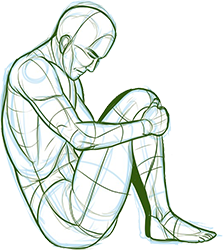 Moderated by
Licensed Professional Counselor
I am committed to helping you find your passion, heal old wounds, and flow smoother in all aspects of your life path! I use a compassionate listening approach.
Top Rated Answers
Anonymous
March 20th, 2016 12:26am
You can talk to anyone, anyone you feel comfortable talk to about it. It could be a family member, a close friend, a co-worker, school friend, teacher. Whoever you like. You can also talk to us here at 7 cups. We are always happy to listen to anything you have to say.
Anonymous
February 20th, 2018 2:29am
You can visit the 7cup guide regarding this issue, I am always here to help listen and support you should you need me
Anyone you trust, parents, siblings, friends, teachers, co-workers, aunts, uncles, grandparents, doctors... If its someone you feel safe talking too and you need help the best place to start is with someone you know. If you don't feel safe talking to any of them, there is always someone on 7 cups willing to help
Lots of listeners on here who would love to listen if you need to talk about depression, so here is one place :). Your family and friends would be a good start, but I know for some people. family and friends aren't actually that supportive :(. In that case, one good start is your family doctor, who could help you out (or give you more information if you're wondering about depression), and potentially refer you to someone to talk to if needed. Another good resource can be you school guidance counsellor/learning support teacher if you're a student (or student counselling services if you're in college), or your human resource if you're working...often jobs will have employee assistance programs in place that can offer free counselling. A pastor or religious leader if you are affiliated with one can sometimes also be helpful (though not always).
Mark5
January 14th, 2016 2:43am
There are many people you could talk to about depression. Parents, siblings, friends, counselors, hotlines, online communities. If you do not feel as though you have connections in any of these places, 7 Cups is a great place. We have depression support rooms on both the listener and teen side as well as self-help guides for a wide range of issues. If you want a listener who "specializes" in depression, go to our Browse Listeners page and search for "Depression" under the topic tab.
Crest
January 14th, 2016 3:32am
Well, you are on 7 Cups, are you not? Then you can also chat to a psychologist if you feel you need that. (And you just might, regardless.)
Whoever is close and it feels right opening up to. Parents, siblings, teachers, friends, ... If you don't feel ready for that yet, you can always talk to the listeners here instead - keep in mind that that's only a temporary solution though. Plus, consider talking to a professional therapist.
Anonymous
January 14th, 2016 9:15pm
You can talk with someone you feel comfortable with. Perhaps a member of your family, or one of your friends, and if you prefer to talk to someone you don't know, there are always listeners in here
Anonymous
January 15th, 2016 10:14am
You can talk to a number of people. Family, friends, doctors, teachers, suicide helplines if you feel its necessary. There are a large number of people there to listen and try to help
Anonymous
January 16th, 2016 7:46pm
I could talk to myself about, in some kind of way. I used to write everything down that kept me up at night. Everything that took my attention. Everything I thought and felt. Writing things down or expressing them in a different way does help. It won't heal you, but it can give you some more time to think about who you're going to talk to about getting help.
Anonymous
January 17th, 2016 7:41pm
Talk to a therapist or a family memeber or friend or anyone you know and see what they say be honest
7Cups of course! Me and other fellow listeners are always ready to listen. But with that said we are not professionals and seeing one can be beneficial. There is also depression support forums and chatrooms available.
People such as family members, school counselors, and counselors/therapists are fantastic choices to talk to. If you are really anxious or afraid to talk to those people, then any of the listeners on 7 Cups are more than happy to listen and provide a safe, open place for you. Close friends are also always an option to confide in, but if you need help on something larger, it's better to call a hotline or talk to a counselor or parent because your safety is also very important.
You should talk with someone that you really trust, like one of your parents, or one of your siblings. Maybe you should avoid talking about that with your friends, except the ones you feel trustworthy and you think that can offer you a real support. If these fail, you can always try to talk about that with a Listener, or me, I'm here for that.
Anonymous
January 22nd, 2016 9:19pm
To any adult person. They can get you to a right person like a doctor or a therepist. They will help you
Anonymous
January 23rd, 2016 6:26pm
go to your gp and tell them about it and they will help you from there and I know that because I have depression myself.
Anonymous
January 23rd, 2016 11:18pm
With my depression the first people I told were my friends, I told my family later but I would definitely talk about it with people close to you
There are a number of sources who you can talk to about depression. You can talk to trustworthy family, friends or teachers. If you are uncomfortable doing that, there are many hotlines and sites such as 7 cups that offer support. If you feel desperate try and seek out professional help as they may often give advice or aid.
Anonymous
January 24th, 2016 5:08pm
I suggest talking to someone that you trust. A friend, parent, teacher. If you feel uncomfortable talking to any of these people try seeking help from a professional
You can always talk to someone you can trust and depend on. Weather it be a friend, a parent or a significant other.
Anonymous
January 27th, 2016 10:36am
You can talk to just about anyone. You can talk to your parents, you can get a therapist, you can talk to your friends. A few years ago, I went to a therapist. They can actually help a lot more than you think!
7 Cups is a great place to start talking to someone about what you are experiencing and what you feel would be helpful for you. It can be daunting to think about the process of talking to someone but there are several options that can be explored with your listener.
Anonymous
January 29th, 2016 12:09pm
Your family are the closest people to you, counsellors or anyone you can actually trust. Close friends and anyone you want to, its your life.
Anonymous
January 29th, 2016 9:47pm
Anyone on 7 cups of tea, your gp, a counsellor/therapist or any trusted friend or family member can be great to talk to.
You can talk to a counselor, psychiatrist, parent, friend, or even one of us here on 7 Cups of Tea that has been trained in depression.
Anonymous
January 30th, 2016 1:03am
You're in the right website for that. Maybe a councilor, parents, a therapist...
Anonymous
January 30th, 2016 8:22am
Your parents should always know about stuff like this, and it does get better after you tell them. If not, you could go to a therapist, or please feel free to contact me on the matter.
You can talk to your GP or a therapist. You may be able to talk to friends about it, but if people have no experience with it, they might not really understand what you are going through.
You can talk about it with a trusted friend, a teacher, parents of your friends, whoever you feel that you can be open about your mental illness without fear that they'll judge you. It's essential that you have someone by your side to support you through this difficult phase, you cannot do everything on your own, so don't hesitate asking for help. In case you're not ready to talk about your depression with the person you trust, you can write them a letter/e-mail. Of course, after doing that, it's always better for you to talk to them in person about your problem
Anonymous
February 5th, 2016 6:41am
Talk to someone you trust and make sure they won't betray you or put you more down Someone you love and someone who loves you back as much as you do You could also make online friends or just chat with someone here on 7 Cups Of Tea. Good luck and love you : )